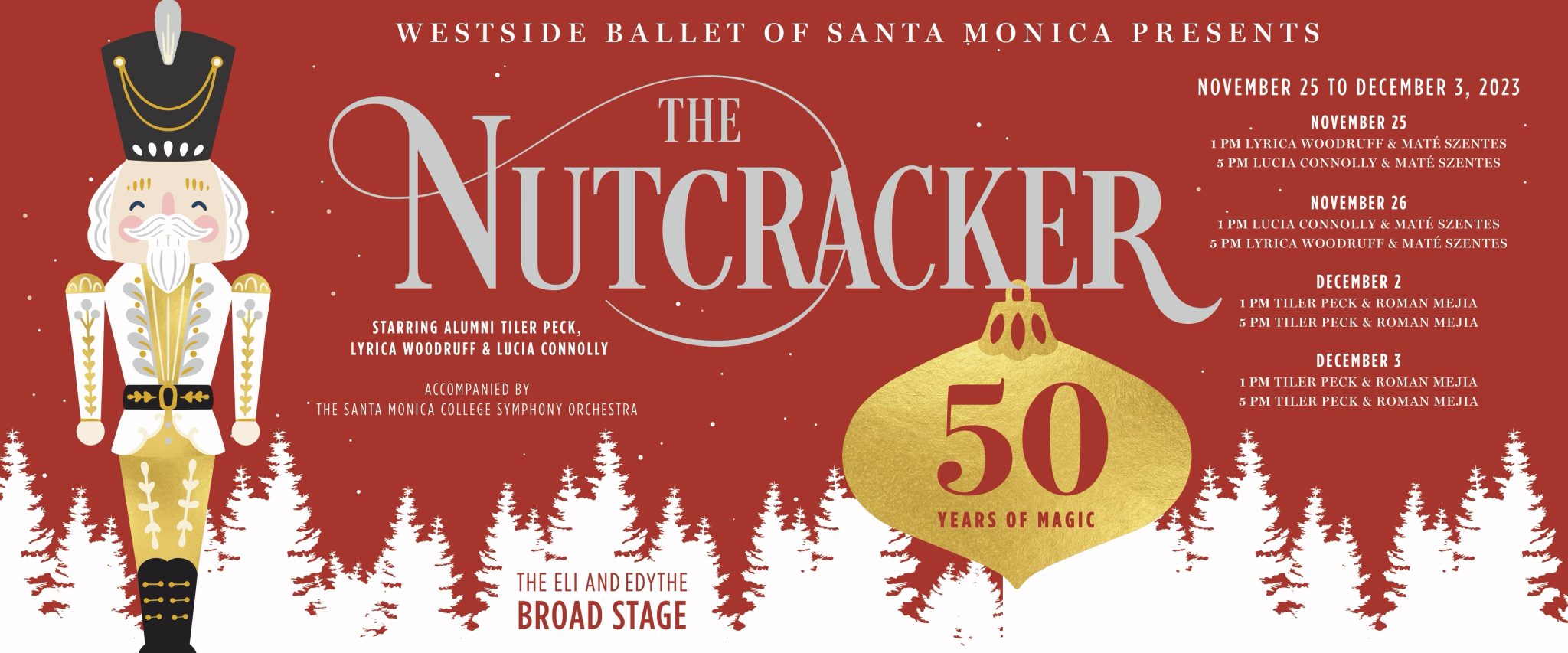 Tickets now on sale!
Performance dates and times:
Saturday November 25 at 1pm & 5pm
Sunday November 26 at 1pm & 5pm
Saturday December 2 at 1pm & 5pm
Sunday December 3 at 1pm & 5pm
Fifty years of magic! Westside Ballet of Santa Monica presents Southern California's longest-running rendition of "The Nutcracker" in celebration of its 50th anniversary! Since its enchanting debut in 1973, this beloved production has become a cherished tradition in Los Angeles, captivating audiences with its magical allure.
Westside Ballet's milestone 50th celebration will feature a truly special treat for audiences: Illustrious Westside alumni, including the remarkable talents of Tiler Peck, Lucia Connolly, and Lyrica Woodruff, will take center stage as the enchanting Sugar Plums. These extraordinary artists, whose careers have soared to great heights, return to their roots to grace this timeless production with their artistry, making these performances truly memorable.
Set to the majestic score of Tchaikovsky led by The Santa Monica College Symphony Orchestra, this production masterfully captures the essence of the legendary George Balanchine's vision, as originally conceived by Yvonne Mounsey, who once graced the stage as the Center Spanish in the New York City Ballet during the peak of her career.
Highlighted in the pages of the Los Angeles Times and recognized in 2015 as one of Pointe Magazine's preferred Nutcracker productions nationwide, it's a holiday experience that promises to be unforgettable—one you won't want to miss!
About Westside Ballet's Nutcracker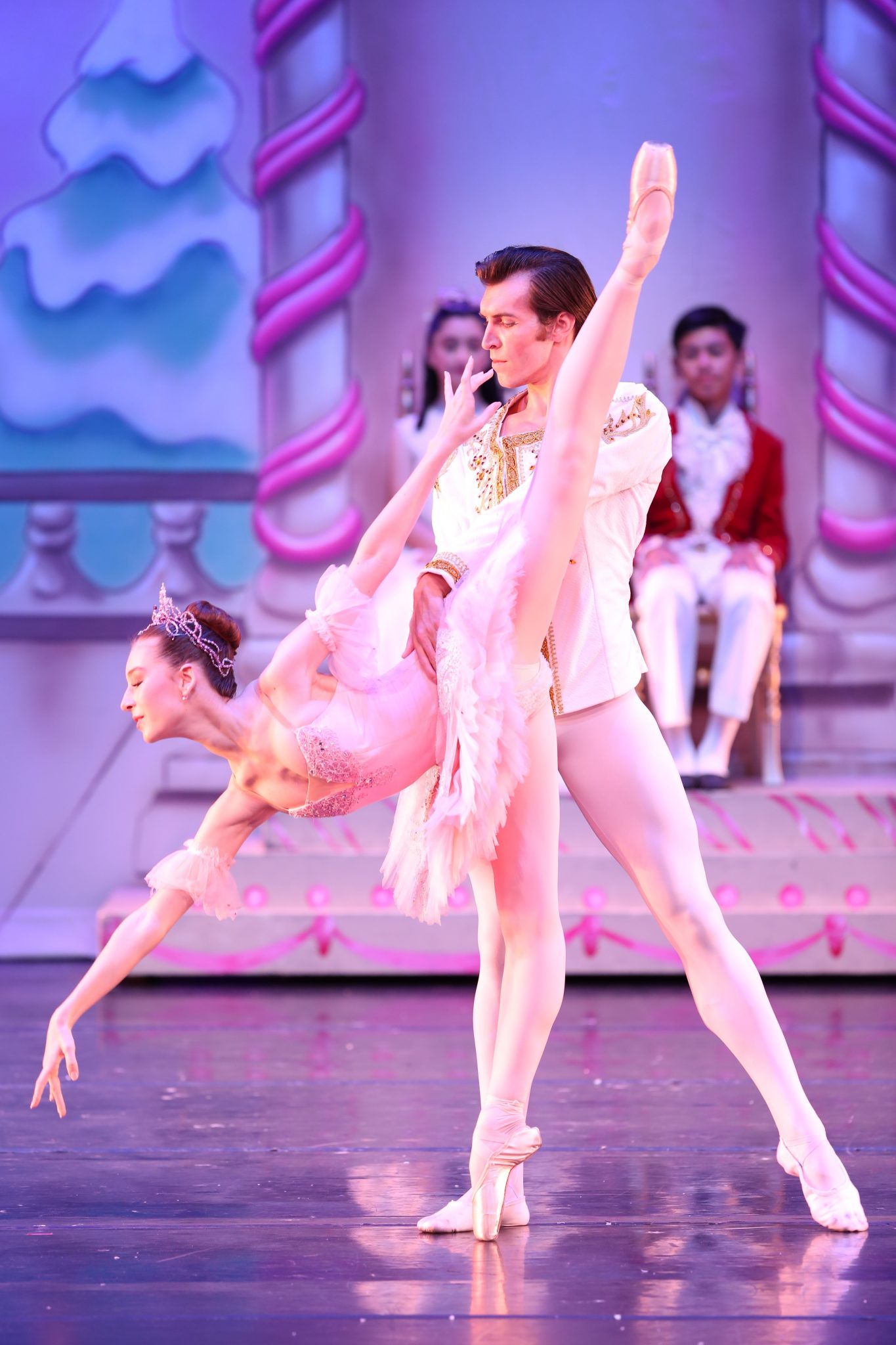 The longest running Nutcracker in the city, Westside Ballet's lavish production has been a Los Angeles tradition since 1973.
From the moment the theater lights dim, you'll embark on a journey into a whimsical realm of Christmas wonder, where the merriment and festive spirit of the season come alive. In the Victorian-style party scene, menacing mice engage in epic battles with valiant toy soldiers, and a dashing Prince guides Clara through the enchanting Land of Snow, where swirling flurries are conjured by the mesmerizing Snow Queen.
As Act II unfolds, heavenly angels, poised on billowing clouds, herald Clara and her Prince's arrival in the Land of the Sweets. Clara is entertained by a delightful array of performances, including Spanish chocolate, Arabian coffee, Peppermints, Chinese tea, and marzipan Mirlitons, each presenting their own unique charms. In the grand finale, a graceful waltz of flowers surrounds the shimmering Dew Drop Fairy before the radiant Sugar Plum Fairy and her elegant Cavalier take center stage in their magnificent pas de deux.
The entire Kingdom bids Clara a fond farewell as she embarks on her journey home, sailing through a glittering night sky in a walnut boat.
Nutcracker Trailer

---
Video Preview
Westside TV gave this exciting preview of WSB's The Nutcracker in 2015 with commentary by Artistic Director Martine Harley.
Featured in Los Angeles Times
For decades, the Times has run features and special mentions on Westside Ballet's The Nutcracker:
---
About Past Productions
Many promising dancers make their stage debuts in Westside Ballet's The Nutcracker. Previous Productions highlights some of the many dancers who went on to professional careers, including Monique Meunier (NYCB, ABT),
Anna Liceica, (ABT) Martine Harley (Houston Ballet), Melissa Barak (NYCB, Los Angeles Ballet, Barak Ballet), Andrew Veyette (NYCB), Stayce Camparo (Kansas City Ballet) and Francis Veyette (Pennsylvania Ballet).
Previous Productions
---