A hundred years from now it will not matter what my bank account was, the sort of house I lived in, or the kind of car I drove. But the world may be different, because I was important in the life of a child. —Forest Witcraft
There has never been a more important time to contribute to our legacy.
Westside School of Ballet is Los Angeles' most successful ballet academy. Founded by Yvonne Mounsey and Rosemary Valaire in 1967, the school has been a touchstone for countless children and adult dancers for over 54 years.
During this unprecedented time, we need each and every one of you to help save this incredible institution.
Launched in March during the first shutdown, the Crisis Relief Fund serves to keep the school and studios from closing permanently, whilst operating on a skeleton staff. Currently, there are limited online offerings and outside classes running at 25% occupancy. Donations will enable Westside to harness the latest technology enabling them to provide even more virtual instruction to adults and children. All donations to the fund will go directly to sustaining Westside Ballet's extraordinary team of dancers, artistic and support staff.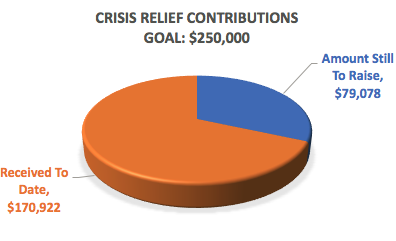 The fund has raised an astounding $170,000 – recently surpassing their original goal of $150,000. The 'Ask' to the community has since been raised to $250,000 – as the original amount was set to cover losses during the first three months of shutdown and the subsequent expectant few months of limited studio classes. As the pandemic is spiking and Westside Ballet is now in their eight month of limited access to studios, utilizing an outdoor dance space and online Zoom classes, the Board of Directors voted to increase the Crisis Relief amount requested, to further ensure the school, in it's 53rd year, will be poised to weather the uncertainty of the pandemic and offer the legendary instruction Westside Ballet has become known for for years to come.
1500 ANGELS For 100 Fund
Our 1500 Angels campaign is an inspirational effort to Save Our Studio. We are asking for your contribution of just $100 a month over the next few months, until we are operating at full capacity again.
Become an Angel NOW and contribute what you can to save this legacy school that has been so terribly impacted by the stay-at-home orders!
GoFundMe**
You can donate via GoFundMe using PayPal or a credit/debit card:
GoFundMe: 1500 Angels to Save Westside School of Ballet
PayPal
To make a tax deductible donation to our nonprofit company, Westside Ballet, please donate via PayPal:
Square
Tax deductible donations and purchases from Westside Ballet's Winter Wonderland Online Boutique can also be made via Square. All proceeds from the Boutique go towards the Crisis Relief Fund:
MindBody**
You can make a contribution through your MindBody account. If you would like to set up recurring payments, please email mail@westsideballet.com and you will be contacted by a staff person to help set that up.
CLICK HERE to log in to your account.
All registered students have a MindBody account, generated by our staff. If you have not personally accessed your account before, please visit the following link for instructions:
Venmo**
Contribute to our Venmo account @westsideballet.
Check**
You may also mail a check made payable to Westside Academy of Dance.
Please send the check to:
Westside Academy of Dance
1709 Stewart Street
Santa Monica, CA 90404
**Please note: This is a contribution to Westside School of Ballet and is not a tax deductible donation.
HONOR ROLL OF ANGELS (thru 11/25/20)
Please scroll to see the full list of contributors.
HONOR ROLL OF ANGELS (thru 11/25/20)
Elizabeth Abarbanel
Jay Abarbanel
Michelle Abbott
Laura Abruscato
Robyn Abzug
Zahra Aghajan
Flavia Amon
Lisa Al-Anbari
Susan Alexander
Stephanie Allen
Larue Anderson
Mackenzie Anderson
Anonymous (29)
Fay Arfa
Elissa Ashwood
Tessa Auberjonois
Debbie Avery
Michele Bachar Mendicelli
Yvonne Bachar
Aimee Bakhshandehpour
Mary Balzer
Erika Bandy
Barak Ballet
Mohammed Barakat
Lara Barharlo
Caroline Batzdorf
Joan Bayley
Dale Beck
Sarah Beers
Connie Bell
Fiona Bell
Jeff Bell and Trish Blessing
Richard Bell
Jo Anne Bell
Molly Bendal
Kerry Bennett
Mawra Bernstein
Jonathan Berzer
Kim Blank
Olive Blessing
Denise Block
Jodi Blumstein
Alexandra Bogdanovich
Danielle Bonder
Trevor Booker
Kelly Boston
Lora Braun
Mary Jo Braun
Athena Bressel-Garrett
Lori Brody
Janet Brown
Renna Brown-Thaler
Loree Bryer
Victoria Brynner
Su Jen Buchheim
Margaret Buchheit
John Burke
Susan G. Butala
Christopher Camp
Lori Camparo
Heather Campbell
Lynne Campion
Capital Group Companies Charitable Foundation – corporate match
Andrea Cataldo
Veronica Caudillo
Ronnie Cavalluzzi
Barbara Chase
Tiffany Chau
Cathy Chazan
Alex Chazanas
Sheila Chen Lawrence
Pauline Cheng
Suzanne Childs
Patty Chung
Stephanie Clemens
Dean Cleverdon
Isabella Coben
Susan Cole
Francis Collins
Thubten Comerford
Michelle Cooper
Dawn Cornett
Susannah Cotrone
Ayisha Cravotta
Leonard Crofoot
Marlene Crosby
Heather Curran Fulkerth
Cecilia Dangcil
Mel Dangcil
Peggy Danielson
Yvette Davies
Francesca Davis
Jessica Davis
Lisa & Larry Davis
Camelia Davtyan
Kiva Dawson
Annelie De Fazio
Amanda De Jesus
Alexis Del Vecchio
Krista Desens
Beth De Woody
Janet Diamond
Margie Dickens
Terry Dokman
Wendy Donnelly
Mark Douglas
Sydney Douglas
Laurie Doyle
Terri Ann Driggs
Carla Drisdom
Matthew Duling
Meleana Dunn
Naila Elfarra
Dara Epstein
Cynthia Erb
Bora Erdos
Florene Erman
Daniella Escobar
Mary Estrada
Caron Eule
Emanuel Everheart
Kellyann Everly
Wendy Falivena
Angela Falivena-Vennes
Alexa Fallica
Joan Farrell
Beth Farrelly
Meme Fehmers
Julie Feiner
Ruth Fentroy
Eddie Ferrer
Vince Filippone
Robin Fleck
Angie Flynn
Stephanie Franklin
MaryJo Frazier
Marsha Freedland
Ronny Frishman
Erin Froschle
Genevieve Gagnon
Andrew Galambos
Kathy Galan
Michael Galas
Nancy Galvan
Terri Gans
Kaylene Garcia
Skye Garcia
Marie Veronica Gashu
Michael Guttentag
Aimee Gaudio
Crystal Gaudio
Jason Gaudio
Lynn Gephardt
Assieh Ghassemi
Karen Ginsberg
Jeannette Godoy
GoFundMe.org
Arza Goldstein
Horatio Gomez
Mary Gomez
Purvi Goradia
George Goy & Cheryl Scaccio
Deidre Grawl
Debra Greenfield
Margie Greenwald
Sybil Grieb
Sylvia Grieb
Ashley Griffin
Nancy Griffin
Stephen Grynberg & Susan Winfield
Yingxve Gu
Yoshima Gurwell
Michael Guttentag
Amy Haley
Clark Hamm
Stella Hanley
In Memory of Bill and Odile Harley
Martine Harley
Susan Harris
Harrison Family
Heather Hart
Yael Hartstein
Jackie Hawkins
Heather Hayward
Joy Hayward
Jiselle Henderkott Calazans
Amanda Henninger
Jody Herman
Sally Herrera
Tom Hershey
Daren Hicks
Julia Hillary
Emily Hite
Heather Hobbs van Schaik
Abe Hoffing
Leslie Holloway
Emma Holter
Tosh Honda
Eileen Horowitz
Brianna & Jason Hoskins
Ali Howell
Kelly Howze
Amy Hruby
Robert Hunter
Hedy Hutcheson
Sue Hutchinson
Elizabeth Ingram
Cristian Teodor Ionescu
Liliana Isella
Nina Jackson
Sheila Jackson
Else Jacobson
Nina Jackson
Jeanne Jacobson
Jasmine Jaffe
Nancy Jean
Jennifer Jesswein
Janina Jiang
Ellie Johnson
Erika Johnson
Jasmin Johnson
John K. Jones
Sarah Kaner
Risa Kaplowitz
Simona Karayev
Yanlin Kaye
Sean Kelly
Thomas Keniston
Francine Kessler Lavac
Amy Kidd
Kelly Kimball
Tracy Kinell
Coley King &Yanina Queen
Katherine King Oberlin
Maurice King
Daphne Kingma
Susan Kinney
Joli Kishi
Barbara Jo Klein
Coco and Frans Klinkenberg
Ann Knight-Schwartzman
Koch Family
David Komhaber
Yukino Konishi
Samara Koseff
Saria Kraft
Sofya Krasnyanskaya
Kelly Kubin
Sally Kutsunai
Karen Lacro
Ingridfaye Laman
Laura Lambuth
Alexis Landau
Laurie Langdon
Sheeva Lapeyre
Mikaela Larkin
Gail Laskowski
David Lawrence
Daisy Lea
Todd Lechtick
Carol Lee
Tina Lee
Adam Lerner
Michael Levy
Lisa Lewis
Kathy Li
Michele Lieberman
Tzengshwu Lieu
Victoria Lindsley
Zoya Litovskaya
Janeen Locker
Julie Lofrano
James Logan
Leon Logvinsky
Kathryn Long
Martha Long
Theresa Longo
Ruth Loomis
Jenny Lord
Leslie Ann Loughlin
Derek Loughrah
Kim Lowe
Savannah Lowery
Siobhan Lucey
Jieying Luo
Lyft
Jennifer Lynch
Rainer & Miriam Mack
Michele Macklin
Susan Maddela
Liz Maiello
Lisa Makowski
Liz Maiello
Mary Maloney
Pat Maloney
Luigia Martelloni
Andrea Martin
Yuka Matsuyama
Julie May
Patrick & Nancy McCabe
Natasha McCaffrey
Lara McCarthy
David McGhee
Kerry Lyn McKissick
Jeannie McNamara
Judith Meister
Karen Millet
Mary Michael Marlo
Katya Michaels
Dave Minarski
Adrian Mitchell
Laura Mitchell (Wilde)
Lucinda Mittleman
Donna Mo
Sophie Monat
Nan Morales
Laura Morgan Lambuth
Christine Morton
Anahita Moshfegh-Ross
Diane Moss
MSC Service Company
Debra Mulvaney
NBV Productions
Carrie Nedrow
Deb Nelson
Margaret Nevins
Molly Novack
Kartherine King Oberlin
Annette Okamura
Kim Okamura
Harper Olmon
Karin Olson
Andrea Ordin
Victoria Ordin
Sandra Organ
Junko Osao-Choy
Susan Painter
Nancy Paradis
Julie Pearl
Lynne Pedersen
Maria Pena
Susanne Pepa Spaltenstein
Rudy Perez
Dustin Peterson
Suzanne Petrossian
Maggie Phillips Gerla
Nancy Pierandozzi
Andrea Pimienta
Ilona Pociunas
Kathleen Podegracz
Elaine and Joel Polachek
Leslie Porter
Anastasia Puglisi
Nanette Puglisi
Brian Purchia
Micah Quist
Stephanie Rasband
Linda Rasmussen
Karynn Raz
Lisa Rees
David Renaud
Alexander Rivas, Jr.
Stephen Rivkin
Karen Roberts
Christie Rocha
Stephanie Rohletter
Jane Romney
Margery Rosen
Lee Rosenthal
Marcy Ross
Christine Roum
Laura Roveda
Runbox
Leigh Ryback
Marcia Ryken
Amy Saak
Matthew Saak and Silvia Rios
Karen Safrit
Dorna Sakurai
Robin Saxton
Amanda Schachter
Joyce Schneider
Laurie Schur
Marcie Scranton
Regina Sears
Jessica Seaton
Ruth Shari
Madelyn Shaughnessy
Laurie Shearing
Jan Sheehan
Amy Shelhorne
Patricia Shepherd
Robin Shoob
Ian Silverstein
Ethan Simon
Julie Singer
Suzanne Singh
Ann Slattery
Judith Slattery
Jeff Slayton
Mary Sloan
Donna Smith
Faye Smith
Marty Smith
Jewels Solheim-Roe
Margaret Solow
Birgitte Sorensen
Melissa Spagnuolo
Chantal Spanicciati
Donna Speckman
Livia Squires
Marni St Regis
Sarah Starr
Jane Staugus
Elizabeth Stearns
Angela Stedman
Sharon Steiglitz
Sarah Steinberg
Anna Stephan
Chloe Stephan
Frank & Diana Stephan
Barbara Stinchfield
Mark Stone
Pamela Suchman
Eugene Sullivan III
Judith Swanson Rushlow
Nova Tahvildaran Jesswein
Richard Tahvildaran Jesswein
Zane Tahvildaran Jesswein
Diane Takamine
Karoru Tanaka
Melissa Tapie
Francine Taylor
Michele Terry
Theresa Thomasulo
Andrea Thompson
Rachel Thomson
Stacy Thornton
Sven & Svea Toorvald
Sakura Toyama
Andrea Tracy
Francine Trisolini
Mimi Trisolini
Edward Truitt
JJ Tuan
Susan Tuller
Alison Tunney
Ronni Tunick
Joyce Ulrich
Lisa Urich
Zografoula Vagena
Cookie Valente
Addie Van Gessel
Heather Vargas
Maya Varnell
Ileana Vasquez
Francis Veyette
Dima Volovik
Connie von Briesen-Kamm
Vong Vong
My Vuong
Kelly Wald
Caprice and Alan Walker
Sally Walsh
Holly Watson
Noreen Webb
Julie and Dan Weinbach
Mirabelle Weinbach
Cecelia Weiss
Jolie Whitesell
Susan Willett
Robert Williamson
Alison and Peter Wilson
Karina Wilson
Gail Wingfield
Clay Womack
Marcy Wong
Russell Wong
Severina Wong
Alice Wood
Madge Woods
Justin Yates
Angela Yee
Cathie Zarola
Uri Zeevi
Daniella Zhou
Yardena Zwang-Weissman