Free 3-day Ballet Workshop
Wednesday, Thursday & Friday, July 5-7th 2023 – noon to 5pm
Location: Westside School of Ballet, 1709 Stewart Street, Santa Monica, 90404 Plentiful Free Street Parking on Sundays.
Transportation provided for those that require it.
Fee: There is no fee for this introductory open-access workshop. Complementary healthy lunch, t-shirt and ballet shoes.
Please wear clothing you can move in comfortably. Stretch pants recommended. Please pull your hair back in a hair tie if necessary and bring your own water bottle.
For more info please email: dancetodreamsoutreach@westsideballetcompany.org or call 323-570-1308
After the successful pilot 'Dance to Dreams' Free Ballet Open Day in August of 2022, Westside Ballet's Community Outreach Committee in liaison with Dance in Color offers a July 2023 open three day workshop of ballet and dance for under-served students who may be curious to learn more about ballet, creating a welcoming environment where BIPOC teachers and students occupy significant space at the ballet studio and feel free to explore the art form of ballet.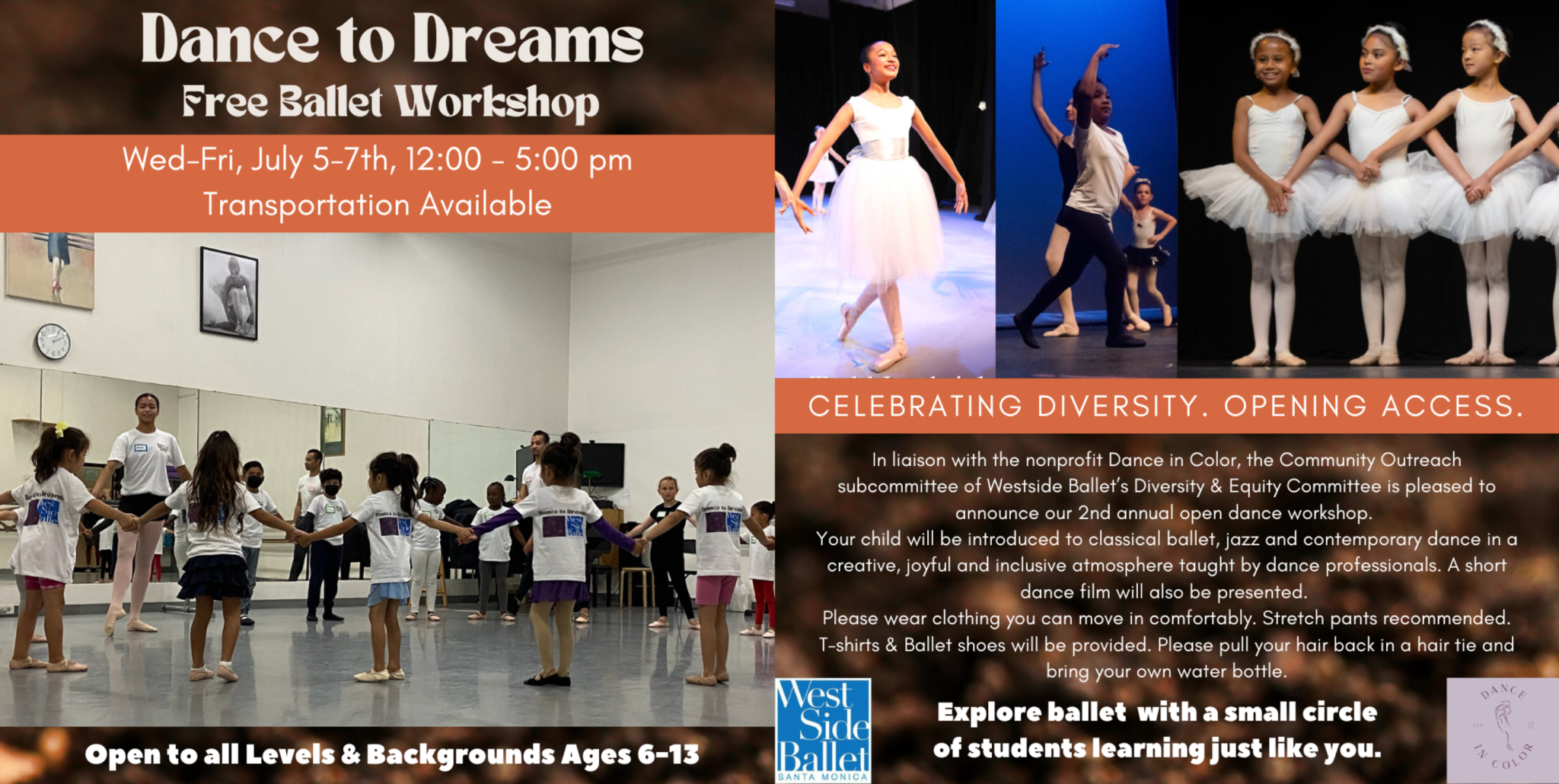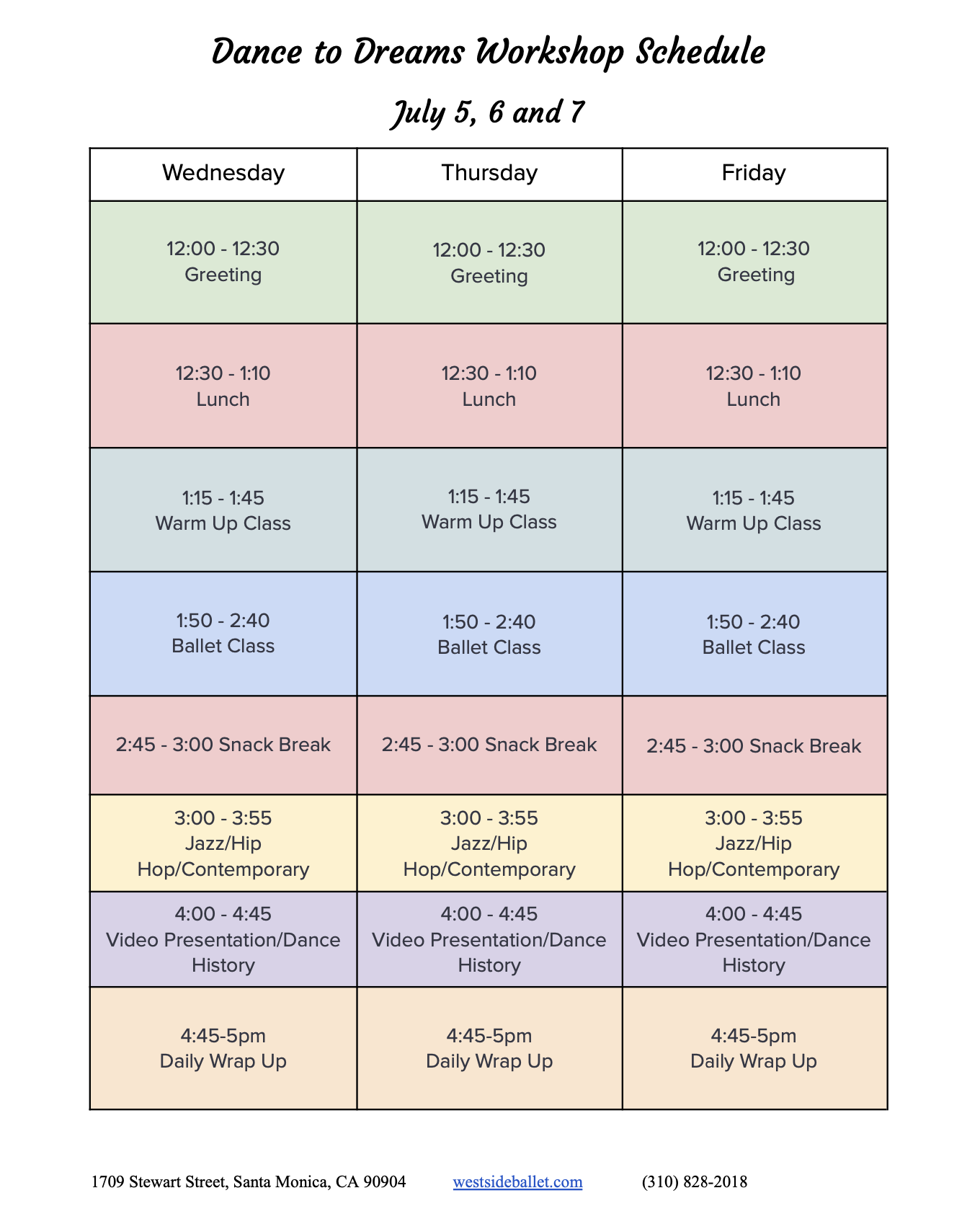 Westside Ballet Diversity & Equity Committee
For over fifty years, Westside Ballet has strived to serve individuals of all backgrounds, ages, and abilities within our studios and the larger community. While our doors have always been open to all, we understand that not everyone has felt a part of our community. We are committed to making this one of Westside Ballet's utmost concerns and to address this in our actions, outreach and education to supporting Black, Persons of Color, and Other dancers within the Westside Ballet community.
We have established a joint Diversity and Inclusion Committee bringing together the Westside Ballet Board of Directors and the Westside Ballet Volunteer Guild to oversee these objectives and to report back to the Westside community on our progress in meeting our goals.
Dance in Color Mission Statement:
Dance in Color's mission is to create lasting systemic change in the performing arts.
We strive to ensure that students are exposed to dance teachers and choreographers from a variety of racial and ethnic backgrounds.
We bolster young Black dance students, and also make sure young artists who are striving for professional dance careers receive the support they need so that their aspirations become reality.
Our intention is to expand the change we want to see beyond dance to other forms of performing arts. We envision lasting change throughout the entire industry.
Dance In Color turns the aspirations of young black artists into their realities.
We ensure that black students who are unable to train in their art form due to the expensive nature of this field can receive funding to attend high level dance schools throughout the nation.
Our hope is to change the face of performing arts as we know it. Creating equity in the world of performing arts is paramount to our endeavors at Dance In Color. The Misty Copelands, Audra McDonalds, and Jonathan Bailey Hollands of the world have made it possible for children of all races to 'Dream in Color'.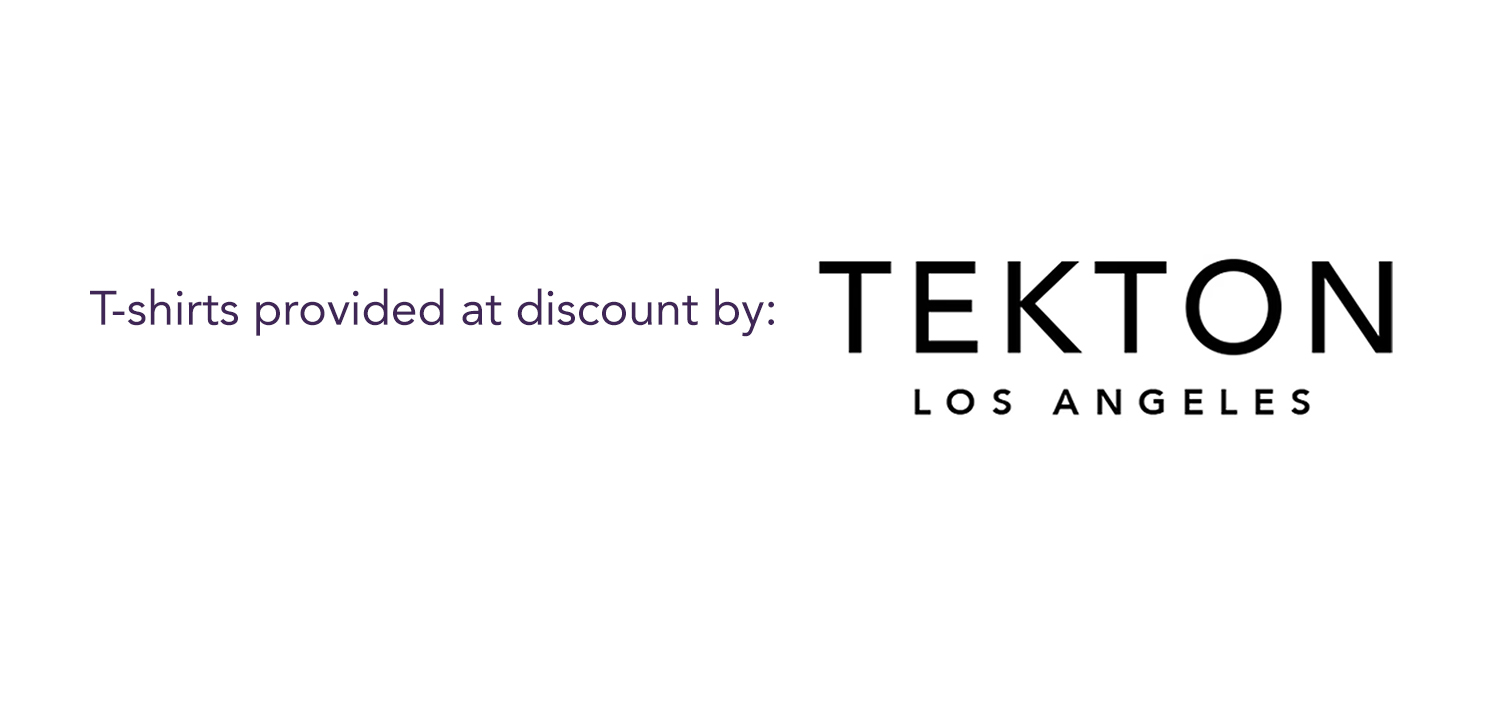 July 2022 Cover Story in The Argonaut and Playa Vista Direct Featuring Adrian Blake Mitchell: