Fall Semester for Children begins Monday, August 31. Registration now open!
Register HERE
Westside School of Ballet offers training in classical ballet for all ages and levels of dancers.
Please click below for class information: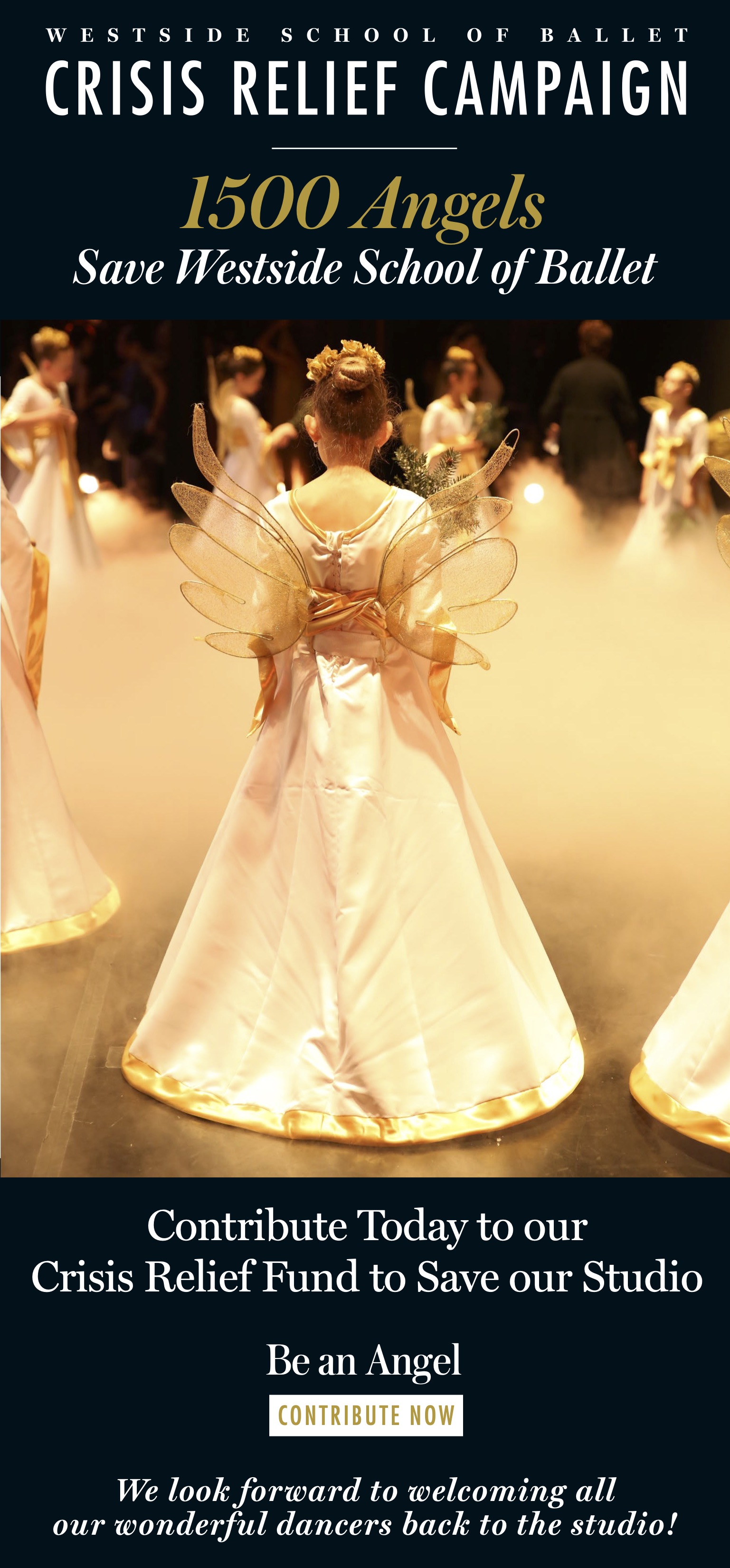 Classes
Adult classes are held on weekdays (primarily in the mornings and evenings) and on weekends (Sunday as well as Saturday). Children's classes (including junior and pre-professional classes) are offered mainly after school, in the early evening, and on Saturday mornings during the school year.
Our Legacy
Westside School of Ballet in Santa Monica is dedicated to excellence in training and the development of the student as an artist. Every year since the school's founding by Yvonne Mounsey in 1967, its students have been awarded scholarships with major ballet company schools and summer programs.
This achievement is a result of the exceptional training by teachers with broad experience performing with professional companies all over the world. An important part of student training is the study of the classics and the opportunity to perform.
Alumni of Westside School of Ballet dance with many professional companies, including Los Angeles Ballet, New York City Ballet, American Ballet Theater, San Francisco Ballet, Houston Ballet, Pennsylvania Ballet, Sacramento Ballet and Kansas City Ballet.
In 2011, Pointe Magazine featured Westside among 7 schools in the country "cultivating top talent." Read the story on the Pointe site.
Sponsors
Project RELEVÉ gives you an opportunity to support the programs of Westside Ballet of Santa Monica, a pre-professional training company serving the Los Angeles ballet community for over 40 years.
With support from the dance community and beyond, Westside Ballet is able to produce professional performances, expand its scholarship program, and build partnerships with numerous community organizations to advance the study and appreciation of ballet in Los Angeles.
Please review our activities in this booklet and consider making a donation to the Westside Ballet of Santa Monica, a non-profit which can accept corporate matching gifts and gifts of common stock as well as cash. For more information contact Westside Ballet's Executive Director, Allegra Clegg at (310) 828-2018.