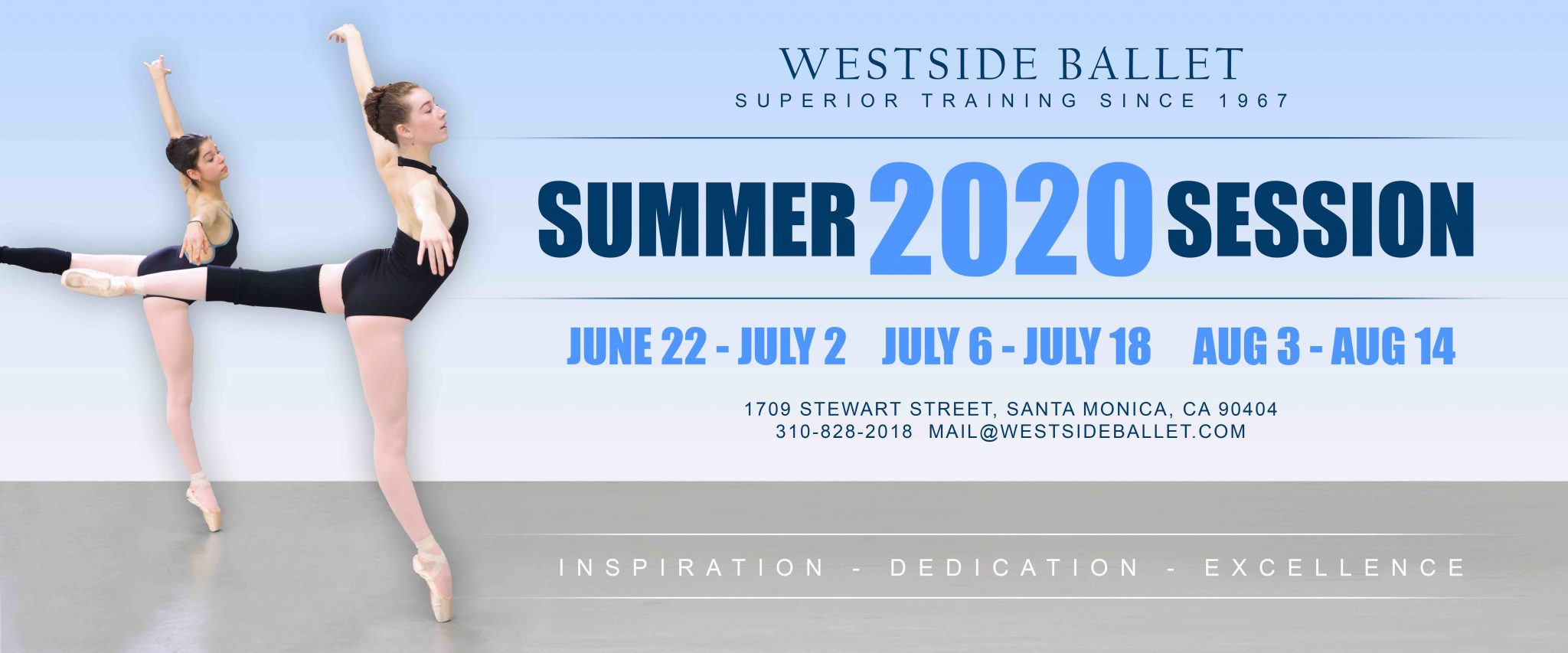 Session 1: June 22 to July 2, 2020
Session 2: July 6 to July 18, 2020
Session 3: NEW DATES August 3 to August 15, 2020
Registration link for Levels 3-7: https://forms.gle/h5ecRepFxeW1xRAs5
Registration link for Pre-Ballet-Level 2: https://forms.gle/XBT2psyijT8B8u1b8 
LIABILITY WAIVER MUST BE COMPLETED: https://forms.gle/ZrPsj3prZfmkjSVM7
Westside School of Ballet:
310.828.2018.
1709 Stewart Street, Santa Monica, CA 90404
Students can register for one 2-week session, or all three sessions, pending enrollment per week.  Due to physical distancing protocols, registration is first come-first served, with priority given to current WSB students.
For 2020, this program is for students from levels 3 to 7. Due to the Covid-19 extended quarantine, all current students will remain in their level in the summer, and move up in the fall.
If your child is not currently enrolled in Westside School of Ballet, please contact us to confirm if your child needs a placement class. You can call the front desk at (310) 828-2018 or email Nanette Vallas at nanette@westsideballet.com
Online registration must be submitted to reserve your child's place.
Our Summer Intensive students may need additional dance apparel for the various dance classes that may be offered.  Please call the studio or click here for more details.
Lower Division
Caprice Walker, Associate Artistic Director
(Ages 9 – 11), Levels 3, 3+, 4, & 4+
Skilled preparatory training in classical ballet for children who have completed Ballet I or equivalent.
Levels 3 & 3+ include Ballet, Mime, Crafts, Folk, Music Appreciation, & Ballet History.
Levels 4 & 4+ includes Ballet, Intro & Beginning Pointe, Variations, Jazz, & Conditioning.
Upper Division
Francine Kessler-Lavac, Associate Artistic Director
(Ages 12 – 18), Levels 5, 5+, 6 & 7
Intensive training for the dedicated ballet student.
Emphasis on Classical Ballet, Pointe, Variations (solos), Jazz, Dance Conditioning and Balanchine Workshops for a well-rounded curriculum essential for today's pre-professional dancers.
Younger Lower Division: Pre-Ballet & Level 1
Caprice Walker, Associate Artistic Director
(Ages 5 – 7) Levels 1, Pre-Ballet  A, B, and C
We will be offering Pre-Ballet A, B, & C classes for Summer, pending enrollment.
Please call the front desk if you have any questions.
A minimum number of students is needed to offer these classes.
If you register and we have enough students, we will have no refunds regardless of circumstances.
Save
Save
Save