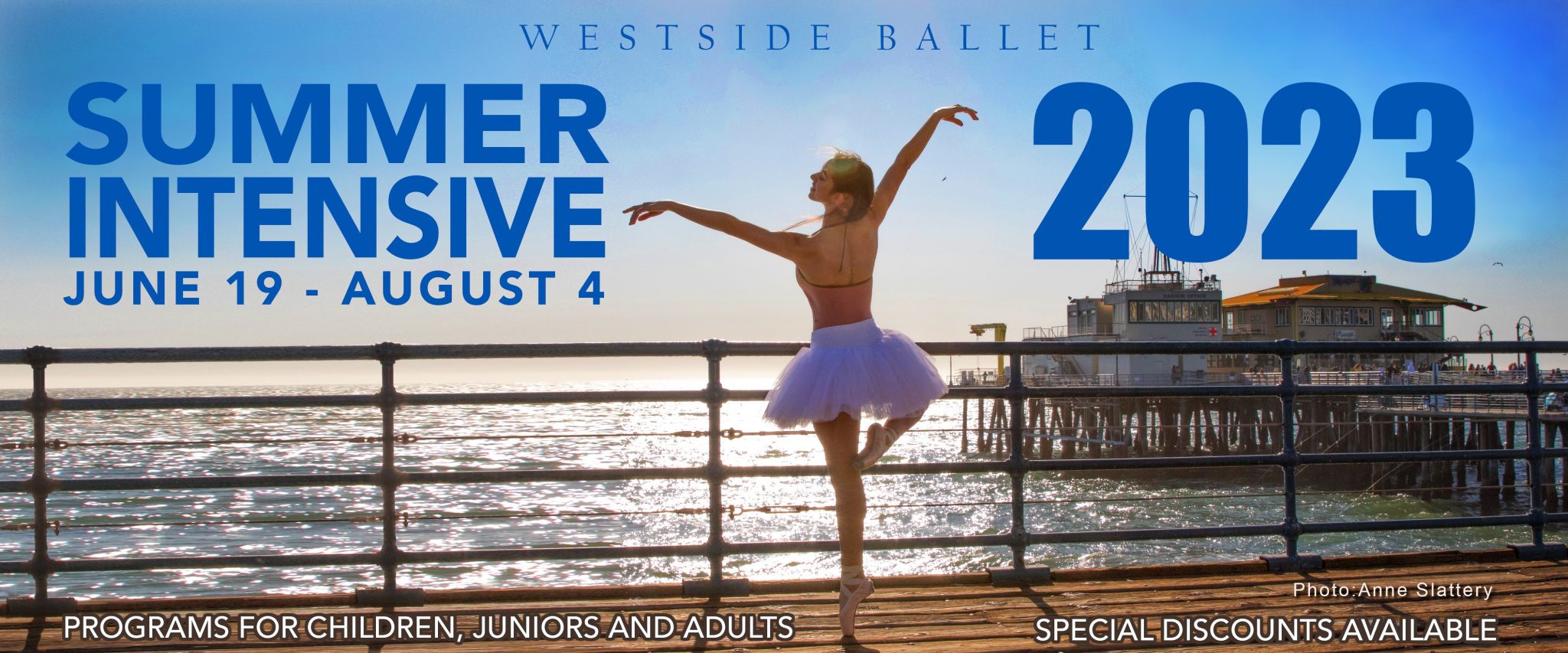 Ballet this Summer in Santa Monica! Elite Training from Beginning to Advanced!
Westside School of Ballet is open for summer registration for dancers of all levels—from intermediate and advanced Summer Intensive programs for upper division students to Children's Themed Camps for Girls and Boys, Ages 4-8.
The legacy training school also offers daily adult ballet classes and Adult Summer Intensives, as well as a Teen Intensive for adolescent students who are newer to the art form of ballet.
If you are unsure of your child's level placement, please click here for age guidelines. If you have any further questions, please call the front desk at (310) 828-2018 or email: mail@westsideballet.com
Intermediate/Advanced Intensives
Ages 9-19
Led by Westside's exceptional resident faculty and esteemed guest instructors, the Summer Intensives are designed to strengthen and nurture young dancers' technique and artistry. Classes are offered in a variety of dance styles including Ballet, Jazz, Modern, and more!
Advanced Workshops
Ages 13-19
Special guest teachers will lead three specially curated week-long intensives: Swan Lake, Balanchine/Serenade, and International Styles. Faculty include: Melissa Barak, Adrian Blake Mitchell, Zippora Karz, Nilas Martins and Andrea Laššáková.
Children's Day Camps
Ages 4-8
Daily activities include Dance Class, Design a Miniature Backdrop, Design a Costume, and Music Exploration. Weekly themed camps include: Toy Story, Puss 'n Boots, Aladdin & Jasmine, Sleeping Beauty, Little Mermaid, Swan Lake, Hip Hop Hooray, Encanto, & Jazz Extravaganza!
Teen Workshop
Ages 11-18
The Teen Ballet Intensive is the perfect program of study for adolescent students who are new to ballet, or have recently begun their training. Instruction in classical technique is supplemented with alternating emphasis throughout the week, from petit allegro and pirouettes, ending each day with a stretch class.
Adult Intensives
Our popular adult classes are given an exciting new dimension with the Adult Summer Intensives. Students will accelerate their improvement and enhance their knowledge, with articular objectives placed on strengthening foundational technique, petit allegro, grand allegro, pirouettes and stretching.
All offerings are pending enrollment and subject to change without notice.