Developing dancers is just part of our mission. We also nurture dance itself in the community, with affordable, accessible performances.
Since its founding in 1970 by former New York City Ballet principal dancer Yvonne Mounsey, and Royal Ballet's Rosemary Valaire, Westside Ballet of Santa Monica has introduced thousands of local families to the art of ballet. Cub Scout, Brownie and Girl Scout troops have taken advantage of special discounted tickets. (This illustration is a thank-you note from a young Scout.)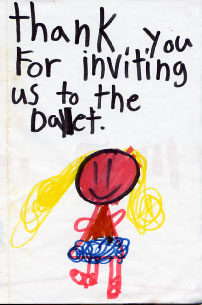 We also reach out to disadvantaged youth. At our Nutcracker performances we have had the privilege of hosting children from two wonderful programs, "A Place Called Home" and "Everybody Dance." We continue to expand our work with them by supporting their fundraising events, attending performances, and teaching dance classes on site.
At our December 1, 2016 Nutcracker Dress Rehearsal we hosted members of Westside Children's Center, Neighborhood Youth Association, Kids In Sports, Everybody Dance, Venice Family Clinic, Santa Monica Police Activities League, Virginia Avenue Park, and the Veterans Foundation.
Also in 2016, for the third consecutive year, approximately one thousand elementary grade students in the Santa Monica-Malibu Unified School District were treated to private, abbreviated presentations of The Nutcracker on November 30 and December 2. Children experienced a narrated version of the Nutcracker story along with excerpts from the ballet, followed by Q & A with the dancers.
In addition, we are proud to introduce ballet to the children from the Venice Family Clinic, Hollygrove and The Help Group, by providing complimentary Nutcracker tickets.
Organizations
Westside Ballet of Santa Monica is proud to partner with the following community and national organizations: