Developing dancers is just part of our mission. Westside Ballet also nurtures the love of dance itself in the community with affordable, accessible performances.
Since its founding in 1970 by former New York City Ballet principal dancer Yvonne Mounsey, and Royal Ballet's Rosemary Valaire, Westside Ballet of Santa Monica has introduced thousands of local families to the art of ballet. For decades, Cub Scout, Brownie and Girl Scout troops have been given the opportunity to attend ballet performances with the help of special discounted tickets. The illustration below is a thank-you note from a young Scout.
Executive Director Allegra Clegg says engaging with the community is a priority for Westside. Amongst other initiatives, "We offer a free 'Dance Talks' enrichment series throughout the year in which guest lecturers give informal talks on the many attributes of dance in a child's life. Since our inception, we have offered affordable performances and donated thousands of tickets to deserving community organizations. In 2019, we were pleased to announce a new partnership with the Boys and Girls Club in Santa Monica where we are now offering ballet class as part of their after school program."
Community Preview Performances
Yearly productions of The Nutcracker and Westside's Spring Performances are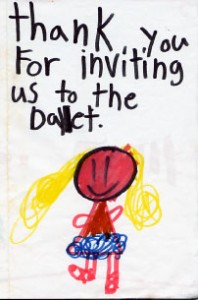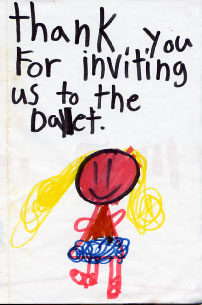 made possible in part by grants from Los Angeles County, the City of Santa Monica, Pacific Palisades Woman's Club — and sponsorships from local Santa Monica individuals, businesses, and organizations such as Santa Monica College Public Policy Institute, The Huntley Hotel, Lyft Scooters, Urth Caffe, Morley Builders, and more. Westside Ballet is extremely grateful for this continued support of the arts in Santa Monica.
Westside reaches out to underserved populations, disadvantaged youth, local Veterans and members of many local charities. Every year, Westside Ballet invites 500 families served by social service agencies supported by the City of Santa Monica to free performances of the Nutcracker with a live orchestra. Some of such organizations have been: A Place Called Home; Everybody Dance; the Boys & Girls Clubs of Santa Monica; Habitat for Humanity; Allies for Every Child; PAL (Santa Monica Police Activities League); Taking the Reins; Neighborhood Youth Association; Vet Tix; Venice Family Clinic; Community Corp of Santa Monica; and Virginia Avenue Park.
Abbreviated Performances for Elementary School Students
Following in this tradition, for seven consecutive years, Westside Ballet presents several educational outreach matinee performances for the annual Nutcracker productions reaching all of Santa Monica's Title 1 public elementary schools (Title 1 signifies a school where over 25% of the student body is on free and reduced lunch) and one sister school in Hollywood, California. Every season, approximately one to two thousand elementary grade students are treated to private, abbreviated, presentations of The Nutcracker held during the weekdays. Children hear a narrated version of The Nutcracker story and see excerpts from the ballet followed by Q&A with the dancers.
Outreach Classes
During the 2019-2020 school year and prior to the pandemic, Westside Ballet partnered with the Santa Monica Boys and Girls club and St. Anne's School satellite program to offer a weekly after-school ballet class. This program continues through the 2020-2021 school year. Additionally, a Sunday afternoon introductory ballet class is now offered to children ages 6 to 11 years old at Westside Ballet's studios, which began November 15, 2020. The goal is to bring the joy of movement and beauty of the arts to a diverse community that has curiosity for classical ballet. Please click here to learn more.
Scholarships
Westside Ballet provides approximately $100,000 in scholarships annually. Westside Ballet established an Endowment Fund to expand both merit and need-based scholarships. The Chow Family Scholarship Fund was established in 2018 and over $150,000 has been raised to date; major donors of this fund requested the funds be used to actively recruit People of Color. In Summer 2020, a new scholarship was established by a new nonprofit, Dance in Color, and named for Westside Alumnus Adrian Blake Mitchell. Two young dancers are receiving this scholarship for the current 2020-21 school year.
Diversity and Inclusion Committee
The Diversity and Inclusion Committee is committed to creating a safe place for our community to discuss any and all issues related to equity, diversity, and inclusion. Our intention is to cultivate a supportive experience by listening, engaging in dialogue when needed, and creating an action plan that will work toward resolution. We invite our community members to join us as we engage in this process of reflecting and raising awareness related to anti-racism.
Please feel free to contact us at judith@westsideballetcompany.org and/or richardamir@me.com to share your comments and/or interest in joining the Diversity and Inclusion Committee.
Judith Meister, President
Westside Ballet of Santa Monica Board of Directors
Richard Tahvildaran Jesswein, President
Westside Ballet of Santa Monica Volunteer Guild
Diversity and Inclusion Committee Members
Richard Tahvildaran Jesswein, Co-Chair
Judith Meister, Co-Chair
Martine Harley, Trish Blessing, Jewels Solheim Roe, Julie Weinbach, Kiva Dawson, Charlene Underwood, Adrian Blake Mitchell, Lynn Polite, Edward Polite, Olivia Polite, Fiona Bell, Jessica Tuck, Samara Koseff, Nadine Harrison, Jasmine Harrison, Nina Neumann
Community Outreach
Online Resources & Diversity News
Organizations
Westside Ballet of Santa Monica is proud to partner with the following community and national organizations: