Martine Harley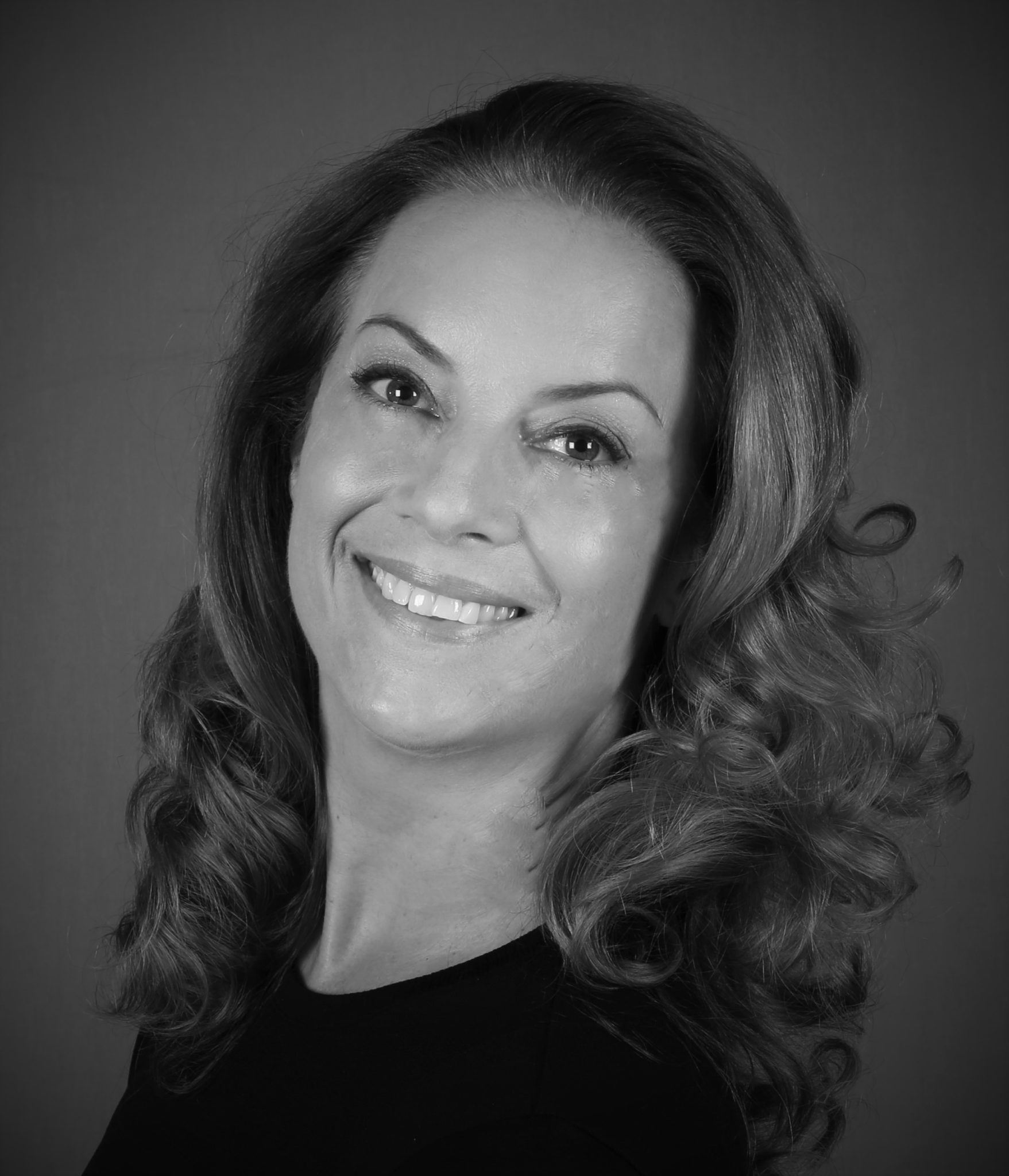 A Los Angeles native, Martine Harley is a proud alumna of the Westside School of Ballet in Santa Monica, having received her formative training from Yvonne Mounsey and Rosemary Valaire, former ballerinas with the New York City Ballet and Royal Ballet companies, respectively. She also trained on full scholarship at American Ballet Theater and the San Francisco Ballet summer schools.
At age 16, Martine was the youngest member of the American team to compete at the International Ballet Competition in Moscow, Russia. Martine launched her professional ballet career at the age of 17 when she joined the Nevada Dance Theater, and at age 18, she joined the Houston Ballet, the fourth largest company in the United States.
During her 13 years as a dancer, Martine was a critically acclaimed soloist dancing featured roles in all the full-length classical ballets as well as contemporary pieces. She worked with such luminaries as Dame Margot Fonteyn, Ben Stevenson, O.B.E., Glen Tetley and Sir Kenneth MacMillan. She has danced for Presidents and dignitaries at the Kennedy Center in our nation's capital and around the world from Canada to Scotland, Singapore, Jakarta and Hong Kong.
Upon retiring from dancing, Martine taught at the Houston Ballet Academy, the High School for Performing and Visual Arts in Houston, and was the Dance Coach for Bela Karolyi's Olympic Gymnastic team before returning to Houston Ballet as Ballet Mistress and Artistic Coordinator for another 12 years.
In the fall of 2006, Martine moved back to California to be closer to her family and earned an Associates Degree from Santa Monica College and a Bachelor's degree from UCLA while teaching in the school and staging the full-length Sleeping Beauty for Westside Ballet's spring showcase in 2007, Les Sylphides in 2010 and Act II Swan Lake in 2011.
In 2013, Martine earned an Associates degree from Santa Monica College and continued on to UCLA, where she earned her B.A. in 2016.
Assuming Artistic Directorship of Westside Ballet in January of 2013,  Martine has brought more than three decades of professional experience to produce new generations of dancers at Westside School of Ballet and it's non-profit company, Westside Ballet of Santa Monica. Martine has grown the school and expanded the company's repertoire to include Ben Stevenson's world renown Prelude, David Lichine's Graduation Ball, more classical and original works, while maintaining the Balanchine repertoire and honoring the legacy that is Westside Ballet.
'Raising the Barre': Malibu resident Martine Harley shares about her "Nutcracker" success.
Co-Associate Artistic Directors:
Caprice Walker
Francine Kessler Lavac
In Memoriam Yvonne Mounsey (1919 – 2012), founding Artistic Director
It is with great sadness that Westside Ballet marked the passing of Yvonne Mounsey, founding director of the Westside School of Ballet in September 2012. With a ballet career encompassing more than eight decades, she touched the lives of thousands through her dancing, her choreography, her teaching, and the example she set of a life well-lived.
Yvonne Mounsey was a principal dancer with the New York City Ballet during its formative years. She danced with the company from 1949 to 1958, originating roles in ballets by George Balanchine and Jerome Robbins that continue to be performed in the repertories of companies throughout the world. In 1950 she made her debut in George Balanchine's Prodigal Son (1929) as the Siren, the role for which she would most famously be remembered.
Robbins called upon Mounsey's imposing height and commanding presence as the Queen in The Cage (1951). Also a comedienne, she danced the Wife in The Concert (1956). Robbins capitalized on her acrobatic qualities when choreographing her Harp solo in Fanfare (1953). She led the Pas de Neuf in Balanchine's Swan Lake and the Fourth Waltz in his La Valse, both from 1951. When Balanchine choreographed his Nutcracker, in 1954, he featured Mounsey in the Spanish divertissement. She danced to acclaim as The Woman from His Past in Antony Tudor's Lilac Garden (1936) and Brangaene in Frederick Ashton's Picnic at Tintagel (1952).
Born on a farm outside Pretoria, South Africa, Yvonne studied the Royal Academy of Dancing method through the advanced level and further refined her technique in London as a student of the Russian émigré Igor Schwezoff. She auditioned successfully for Léonide Massine, entering the Ballet Russe de Monte Carlo in 1939. Following the outbreak of war she danced with the Original Ballet Russe in Australia and North America under the Russified name Irina Zarova. She danced featured roles in Michel Fokine's Le Coq D'or (1914/1937), David Lichine's Graduation Ball (1940) and Balanchine's Balustrade (1941).
In 1959, Mounsey co-founded the Johannesburg City Ballet, which later became the PACT Ballet. She moved to Los Angeles in 1966 and established in 1967 what would become the Westside School of Ballet. Working closely with her associate director Rosemary Valaire, who died in 1999, for decades she inspired and developed thousands of dance lovers. The Westside School of Ballet counts among its alumni principal dancers with the New York City Ballet and Pennsylvania Ballet, and members of the Bolshoi Ballet, American Ballet Theatre, San Francisco Ballet, Oregon Ballet Theatre, and Pacific Northwest Ballet.
Bio by Emily Hite
See the stories about Yvonne's life and contribution to ballet in the Los Angeles Times and The New York Times.
In Memoriam Rosemary Valaire (1930 -1999), founding Artistic Director
We proudly honor the remarkable legacy of Rosemary Valaire, 1930-1999.
Rosemary Valaire was a former soloist with Britain's Royal Ballet and was co-founder of the respected Westside School of Ballet. For over three decades she taught thousands of young dancers to love and excel in the beautiful art of ballet with her classic Royal Ballet style.
Born Rosemary Feuerheerd in London, the dancer adopted her stage name from the character Valerius in William Shakespeare's play "The Two Noble Kinsmen."
She was a soloist with the Royal Ballet from 1946 until 1954 and held the prestigious Solo Seal. One of her role models at the company was the legendary Dame Margot Fonteyn.
Valaire later reconstructed the Royal Ballet's version of "Sleeping Beauty" for several companies, including the American Ballet Theater in 1976, when she coached Natalia Makarova and Mikhail Baryshnikov for the lead roles. Known widely for her adherence to classical ballet, Valaire also re-created "Sleeping Beauty" for Pittsburgh Ballet Theatre, the Milwaukee Ballet, the Compania Nacional de Danza of Mexico City and Ballet Concierto de Puerto Rico.
Other ballets Valaire helped various companies perform included "Swan Lake," "Coppelia" and "Les Sylphides."
Among her students were New York City Ballet principal dancers Monique Meunier and Jock Soto and corps member Melissa Barak, and the American Ballet Theatre's Christina Gibbs and Anna Liceica. Valaire also prepared dancers who went on to join the San Francisco, Houston, Pacific Northwest and Bolshoi ballet companies.
"We teach a very pure, classical style," Valaire told The Times in December 1984 when preparing a troupe for Royce Hall, "and a lot of loving care goes into our rehearsals–that's what makes the difference."