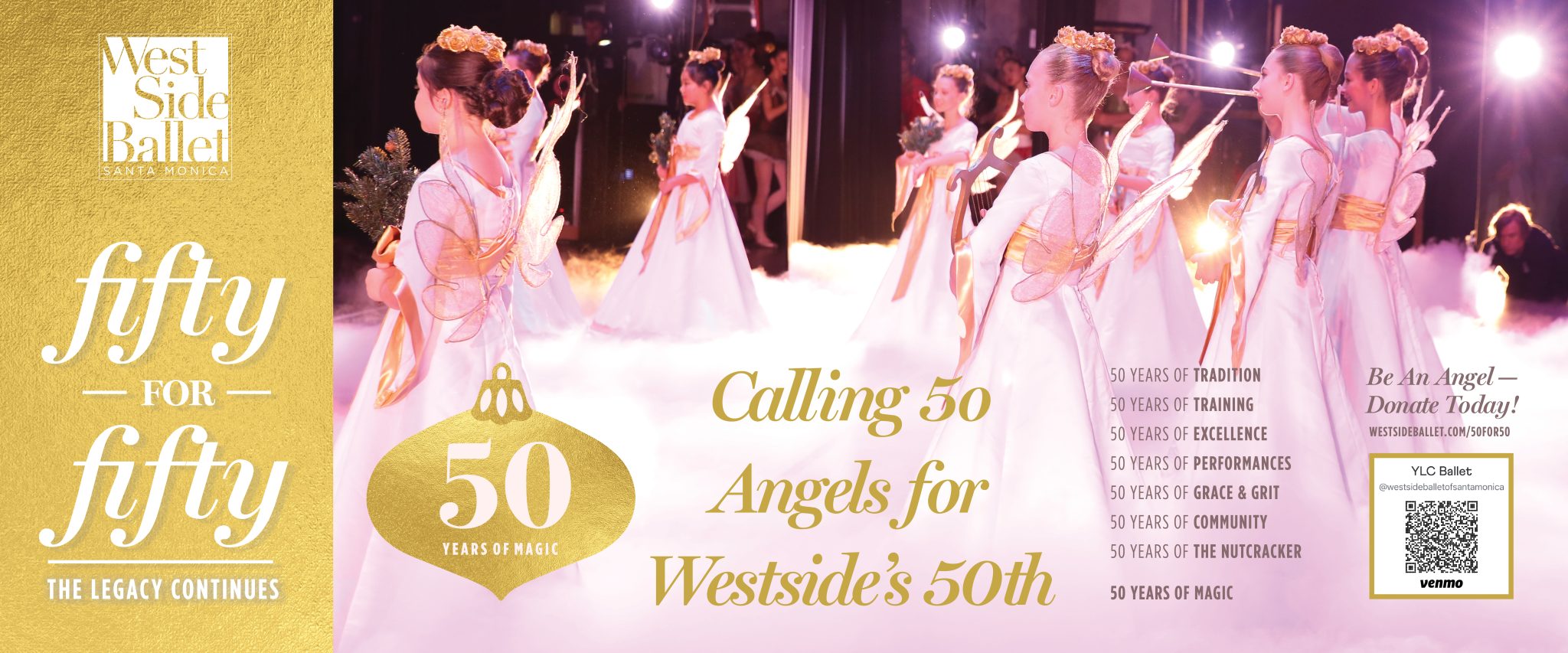 Celebrate 50 Years of Magic with Westside Ballet's 50 for 50 Initiative!
As we mark 50 incredible years of tradition, training, excellence, and community, we invite you to be a part of our exciting 50 for 50 initiative. Westside Ballet of Santa Monica presents the longest-running rendition of "The Nutcracker" in Southern California, and this year, the magic is even more spectacular in honor of our golden anniversary. Since our enchanting debut in 1973, this beloved production has become a cherished tradition in Los Angeles, captivating audiences with its magical allure.
For this milestone 50th celebration, we have something truly special in store. Illustrious Westside alumni, including remarkable talents like Tiler Peck, Lucia Connolly, and Lyrica Woodruff, will take center stage as the enchanting Sugar Plums. These extraordinary artists, whose careers have soared to great heights, return to their roots to grace this timeless production with their artistry, making these performances truly unforgettable.
Our goal is to raise $150,000, and we need your support to achieve it. Two generous individuals have already contributed $25,000 each as a match, and we're inviting 50 more individuals to contribute $1,000 or more to get to our goal. Every amount is welcome, and all contributions are tax-deductible.
The funds raised through the 50 for 50 initiative will go toward enhancing our Nutcracker production. This includes paying for these special alumni guest artists, upgrading our sets and costumes, and helping cover the costs associated with our world-class venue, the Broad Stage in Santa Monica.
Please join us in making this magical milestone even more memorable. Your support will ensure that the legacy of Westside Ballet continues to enchant audiences for generations to come. By contributing $1,000 or more, you'll receive recognition in our commemorative 50th Nutcracker program and your name will be listed in the '50 for 50′ honor roll online. Plus, you'll receive an exclusive invitation to a champagne toast with a guest Sugar Plum Fairy.
Donating is easy! You can contribute via PayPal or Venmo, or simply complete the Pledge Form and mail it to our office. Corporate sponsors also have opportunities for multiple benefits. If you have any questions or need more information, please don't hesitate to contact us: mail@westsideballet.com
Your generous support is a gift to the world of ballet and the Santa Monica community. Thank you for helping us celebrate 50 years of grace, excellence, and magic.
Every donation helps us continue our mission, which is to provide promising young dancers with valuable performance opportunities and make dance accessible to local children and families. We're committed to instilling "grace and grit" in our students, teaching discipline, teamwork, and values that transcend the world of ballet.
Your contribution makes a difference and ensures the legacy of Westside Ballet continues to thrive. Join us in making our 50th Nutcracker the most magical yet. Let's create lasting memories together!