Thanks to Everyone for Another Great Season of The Nutcracker!
The Magic is Back!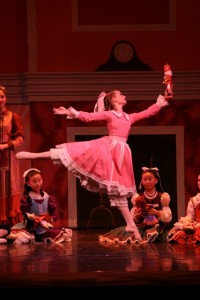 For over 40 years, audiences have thrilled to Westside Ballet's lavish productions of The Nutcracker.
From the moment the lights dim, you'll be transported with Clara to a magical world filled with dancing snowflakes, Spanish chocolate, and a dashing prince.
Based on E.T.A. Hoffmann's "The Nutcracker and the Mouse King" and the Marius Petipa classic, this is the complete, traditional ballet, from the Victorian-style party scene to the glittering Sugar Plum Fairy.
With a LIVE Orchestra!
Performed at the intimate Broad Stage at SMC Performing Arts Center, with the Santa Monica College Symphony Orchestra playing Tchaikovsky's majestic score… it's a holiday experience you won't want to miss!
Westside Ballet of Santa Monica Nutcracker Trailer from Westside Ballet on Vimeo. Special thanks to Drew Roublick for producing this video.
LA Observed features an article on "A Nutcracker homecoming for ballerinas Joy Womack and Lyrica Blankfein." Read it here.

Performance dates, times and soloists (Sugar Plum Fairy/Her Cavalier):
Recently added performance due to high ticket demand
Saturday
December 13
1:00pm
Lyrica Blankfein/
Johnny Zhong
Saturday
December 13
5:00 pm
Kaylene Garcia/
Evan Swenson
Sunday
December 14
1:00pm
Kaylene Garcia/
Evan Swenson
Sunday
December 14
5:00pm
Lyrica Blankfein/
Johnny Zhong
Thursday
December 18
7:00 pm
Joy Womack/
Luke Willis
Recently added performance due to high ticket demand
Friday
December 19
7:00 pm
Joy Womack/
Luke Willis
Saturday, December 20 11:00am
Lucia Connolly/
Evan Swenson
Sunday
December 21
1:00pm
Lucia Connolly/
Evan Swenson
Sunday
December 21
5:00pm
Kaylene Garcia/
Luke Willis

About the Soloists
Westside Ballet is pleased to announce that all three of our Sugar Plum Fairy guest artists are Westside Ballet alumnae!
Joy Womack – In 2012 Ms. Womack made international headlines by becoming the first American female to be invited to dance under contract with the Bolshoi Ballet. Today she is a principal dancer with the Kremlin Ballet Theater in Moscow. Ms. Womack also won the Asian Grand Prix Award in 2013 and the Pinnacle Grand Prix prize at the European Youth America Grand Prix in 2011. Welcome back Joy!
Lyrica Blankfein – A 2014 recipient of the prestigious Mae L. Wien Award, Ms. Blankfein recently completed her training at the School of American Ballet. She is currently performing in Susan Stroman's Little Dancer on Broadway.
Lucia Connolly – Lucia Connolly grew up performing in Westside's Nutcracker and is now studying at The School of American Ballet on a full scholarship. Enjoy this LA Times video of Lucia as she performs the Sugar Plum Fairy in Westside's 2013 Nutcracker and talks about the challenges of the role.
Luke Willis – Formerly with San Francisco Ballet and Aspen Santa Fe Ballet, Mr. Willis trained at Central Pennsylvania Youth Ballet, The Art of Classical Ballet School of Dance, Boston University, and Jacob's Pillow School of Dance.

A Los Angeles Tradition
Westside Ballet's production of The Nutcracker is a Los Angeles tradition dating all the way back to 1973 – the longest running Nutcracker production in Los Angeles.
As featured in the Los Angeles Times, the artistic direction captures the spirit of the legendary George Balanchine, passed on by Yvonne Mounsey, who created the Nutcracker role of Center Spanish during the peak of her career as principal dancer with New York City Ballet.
"Ours is very true to the story as is reflected in the music and the spirit," says Caprice Walker, Associate Artistic Director of Westside's Nutcracker. "We have all of the elements that audiences look for – the falling snow, a Christmas tree that grows, and that magical moment when the Polichinelles pop out from under Mother Ginger's skirt."
New Video Just Released
Westside TV gives this exciting preview of WSB's The Nutcracker with commentary by Artistic Director Martine Harley.
---
Featured in Los Angeles Times
For the last three years in a row, the Times has run features on The Nutcracker:
---
About Past Productions
Many promising dancers make their stage debuts in Westside Ballet's The Nutcracker. Previous Productions highlights some of the many dancers who went on to professional careers, including Monique Meunier (NYCB, ABT),
Anna Liceica, (ABT) Martine Harley (Houston Ballet), Melissa Barak (NYCB, Los Angeles Ballet, Barak Ballet), Andrew Veyette (NYCB), Stayce Camparo (Kansas City Ballet) and Francis Veyette (Pennsylvania Ballet).
 Previous Productions
---