SoCal's longest running Nutcracker production continues with several virtual and outdoor happenings!
Virtual Nutcracker
Westside Ballet of Santa Monica's 2020 Nutcracker abbreviated virtual production of "Kingdom of the Sweets" was previously filmed in an open-air 'Black Box.' The company of talented pre-professional dancers perform excerpts from 'The Nutcracker' to be showcased on Vimeo.
Though no live audience permitted, everyone can still enjoy the enthralling Dance of the Sugar Plum Fairy, her Intrada with her Cavalier, The Dew Drop Fairy, Toy Soldier, the Doll and the Arabian dance –– as they were all performed for film, in a carefully controlled environment and reimagined so the dancers do not touch.
For 47 consecutive years, Southern California's longest running production of The Nutcracker has delighted audiences of all ages. This year, in the age of Covid – with renewed determination, grace, and grit – Westside Ballet will bring to life selected pieces from Tchaikovsky's beloved score for all to enjoy, albeit in different ways.
Streaming on Vimeo, Friday December 18 @ 3pm through December 31 here: https://vimeo.com/showcase/6997255
Online Nutcracker Boutique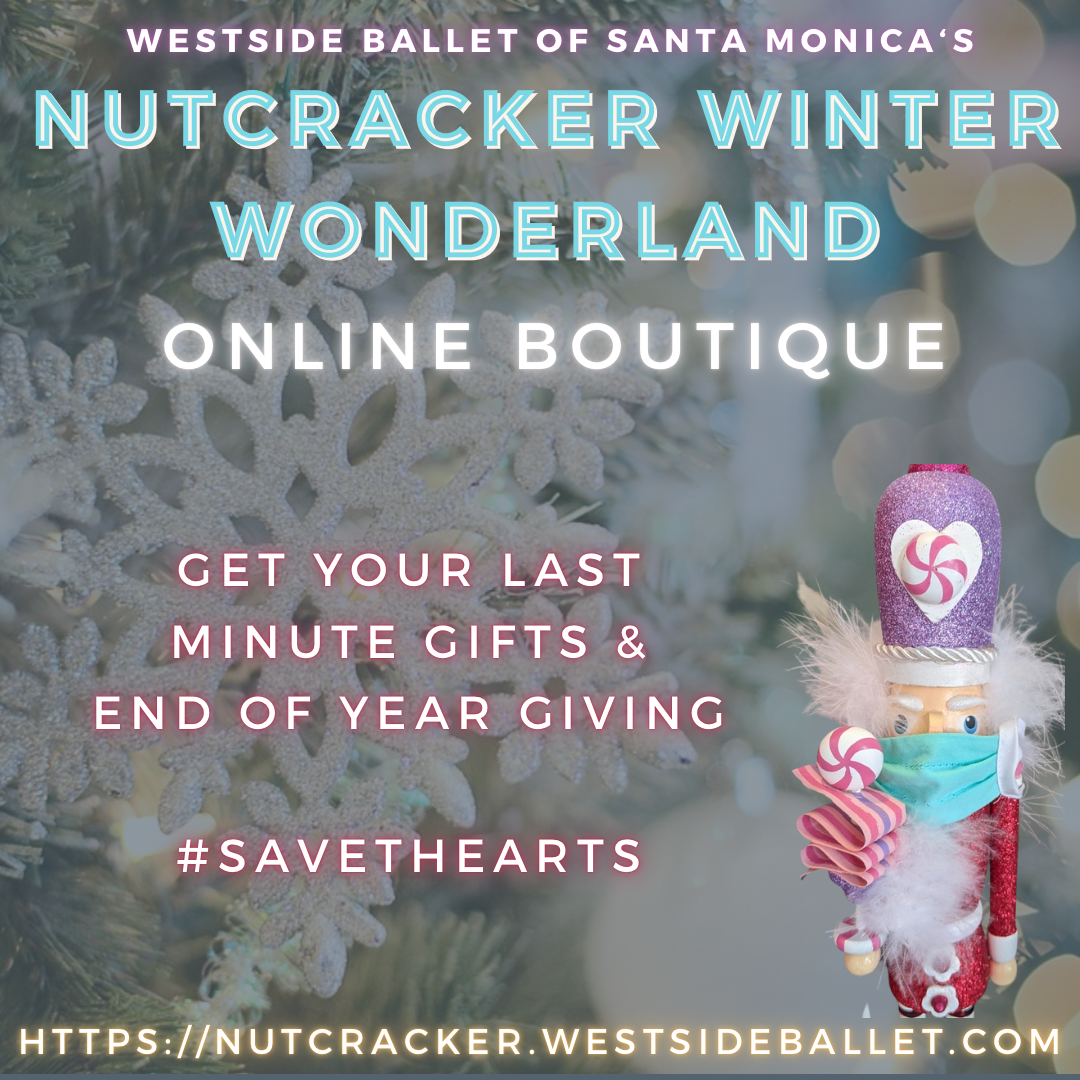 Westside Ballet's Nutcracker "Winter Wonderland" Open Air Market was constructed outside the Westside Ballet Studios in Santa Monica over two weekends following Thanksgiving. Keeping physical distancing and mask protocols in place, the Volunteer Guild's boutique committee offered a delightful assortment of gifts. A special day of celebration to enhance the 'Winter Wonderland' experience took place on Saturday December 5th, when a small number of dancers appeared in Nutcracker character costumes for socially-distant photo ops for fans of the ballet company.
For those who missed it, the committee's Online Nutcracker Boutique continues to offer these unique gift Items throughout the month of December while supplies last. Offerings include nutcrackers of all shapes, sizes, and colors, ornaments, puzzles, and more.