Spring 2022
For over fifty years, Westside Ballet of Santa Monica's Spring Performance has delighted Los Angeles audiences. It serves as a premier performance outlet for young dancers who are launching into professional dance careers with major companies around the world.
May 7, 2022: A Petite Soirée, fundraiser beginning at 6 pm with cocktails, hors d'oeuvres, silent auction, raffle and Performance at 7:30 pm, with guest artists including Adrian Blake Mitchell, Joy Womack, Lyrica Woodruff and Maté Szentes. This also includes a full performance of New Horizons.
Tickets are $75
May 8, 2022: 2 pm New Horizons, Mother's Day Champagne Reception
Full performance with the exception of guest artists.
Tickets are $45
New Horizons: Program Synopsis
Classical, neo-classical, contemporary. Westside Ballet of Santa Monica reaches beyond its traditional realm to explore new horizons on Saturday, May 7th, celebrating a springtide return to the Broad Stage with A Petite Soirée, a special event featuring cocktails, hors d'oeuvres and appearances by acclaimed alumni guest artists Lyrica Woodruff, Adrian Blake Mitchell and Joy Womack along with Andrea Laššáková and Maté Szentes.
Great traditions never fade, but as ballet audiences evolve, so too must the artform coveted worldwide for hundreds of years. Westside Ballet's "New Horizons" presentation will delight with wonderfully varied works from the most classic choreographers and composers to an original contemporary work with a commissioned score.
The first half of the program will open with the company's Grand Défilé, which introduces all the dancers from the smallest and newest to the "étoiles," staged by Artistic Director Martine Harley. For the Soirée event, this will be followed by an awards presentation. Alumni guest artists Joy Womack and Adrian Blake Mitchell then take the stage with the dazzling Spring Waters pas de deux with music by Rachmaninoff. Spring Waters premiered in 1956 and is a rare treat for audiences. This leads into an excerpt from Le Corsaire: Le Jardin Animé (The Enchanted Garden) from ballet's quintessential classic choreographer, Marius Petipa, set to the melodic strains of Ludwig Minkus.
A newly crafted piece introduces levity through the entertaining music of Johann Strauss II's Champagne Polka. In contrast, the rapturous score of Khachaturian's famed Masquerade waltz ushers in Westside Ballet co-founder Yvonne Mounsey's ballet of the same name. From the 20th century's most prolific creator, George Balanchine, comes the return of his celebrated Tchaikovsky Pas de Deux showcasing guest artists alumna Lyrica Woodruff and Hungarian-born Maté Szentes.
A unique inaugural experience for Westside's dancers comes as Santa Monica College's esteemed dance professor and choreographer, Vanessa Van Wormer, creates an original contemporary work choreographed exclusively for the dancers and featuring a newly commissioned score by Andrew Alden to be performed live by the musicians of the Santa Monica College Symphony Orchestra.
Charm then prevails when the company's youngest dancers take the stage for an excerpt from A Midsummer Night's Dream, arranged to Mendelssohn's enchanting music by Associate Artistic Director Caprice Walker.
Saturday night, Samuel Barber's mournful, yet serene, Adagio for Strings comes to life in a stirring pas de deux by Oleg Vinogradov performed by guest artists Adrian Blake Mitchell and his partner Andrea Laššáková. With a starry backdrop, the dancers illustrate the music through exquisite intertwining movements.
Two of Westside's most promising male dancers will share a role in the classic Pas de Trois from Swan Lake which features two girls and one boy in both partnered sections and dynamic solos.
Beloved alumna Joy Womack then performs one of ballet's most well-known solos from La Esmeralda. With tambourine in hand, Ms Womack will light up the stage in this virtuoso offering on Saturday night.
Last, but not least, the program will conclude with A Rich Man's Frug, from Bob Fosse's Sweet Charity, an elaborate and sensational audience favorite by arranged by Westside's own jazz director Michele Bachar Mendicelli.
The festivities continue Sunday, May 8th, with a champagne reception for Mother's Day and the New Horizon's program above, with the exception of the guest artist appearances which are exclusive to the Soirée special event.
The performances are dedicated to the memories two beloved Westside Ballet teachers whom we lost in December 2021, Joan Bayley and Celeste Amos, and to the people of Ukraine, especially the dancers and musicians who have been displaced by war.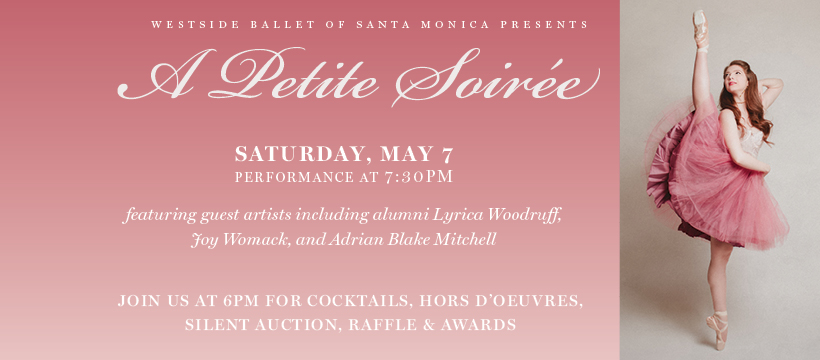 Spring Performance Safety Measures
Safety protocols are still required by the Broad Stage, Santa Monica College, and LA County Dept. of Health. All audience members will be required to show proof of vaccination, or, if not vaccinated, proof of a negative COVID PCR test taken no more than 48 hours before the performance. All audience members, regardless of vaccination status, are required to wear masks at all times inside the theatre.
Please visit westsideballet.com/spring-showcase-safety-measures/ for our most current protocol, which is subject to change.