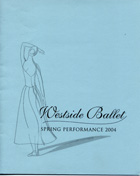 Spring 2004
8 pm Friday, May 14
2 and 7:30 pm Saturday, May 15
Smothers Theatre, Malibu
A tribute to Balanchine including Serenade (performed in cooperation with the Balanchine Trust), Valse Fantaisie (1953 version), and excerpts from Stars and Stripes, Napoli and Harlequinade. Our youngest dancers appear in scenes from A Midsummer Night's Dream. Young choreographer Nicole Haskins contributes her Bruch Violin Concerto to the program.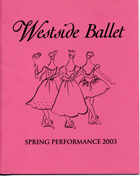 Spring 2003
2 pm and 7 pm Saturday, May 17
Smothers Theatre, Malibu
Program includes scenes from Act I and Act II of Giselle, Jardin Anime, Masquerade, and a workshop production of Who Cares?
Coppelia 2002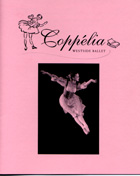 2 pm and 7 pm Saturday, May 18
Smothers Theater, Malibu
The complete ballet in 3 acts, with music by Leo Delibes.
Selected Casting: Jeanne Jacobson as Swanilda; Ben Schreivogel (guest artist, Sacramento Ballet) as Franz; Katie Brown or Charlotte Perebinossoff as Dawn; Renna Brown-Taher or Heather Unruh as Prayer
Ballet Gala 2002
March 9, Wadsworth Theatre, Brentwood
Alumni guest artists including Melissa Barak and Andrew Veyette of New York City Ballet, Sarah Hinman of Sacramento Ballet, Julia Cherlow of Ballet San Jose Silicon Valley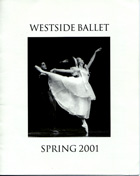 Spring 2001
2 pm and 7 pm Saturday, May 19
Smothers Theater, Malibu
Includes Napoli, Stars & Stripes, The Dream from Don Quixote, Valse Fantaisie, The Young Person's Guide to the Orchestra, Quartet for Eight, Garland Dance from The Sleeping Beauty, and Yvonne Mounsey's Classical Symphony.
Spring 2000
2 pm and 7 pm Saturday, May 20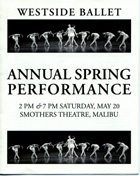 Smother Theater, Malibu
Includes Paquita variations, dances from Giselle, La Vivandiere, Dances from Faust, Tarantella (music by Louis Moreau Gottschalk), and Balanchine's Concerto Barocco.