Spring Showcase 2017 was a great success!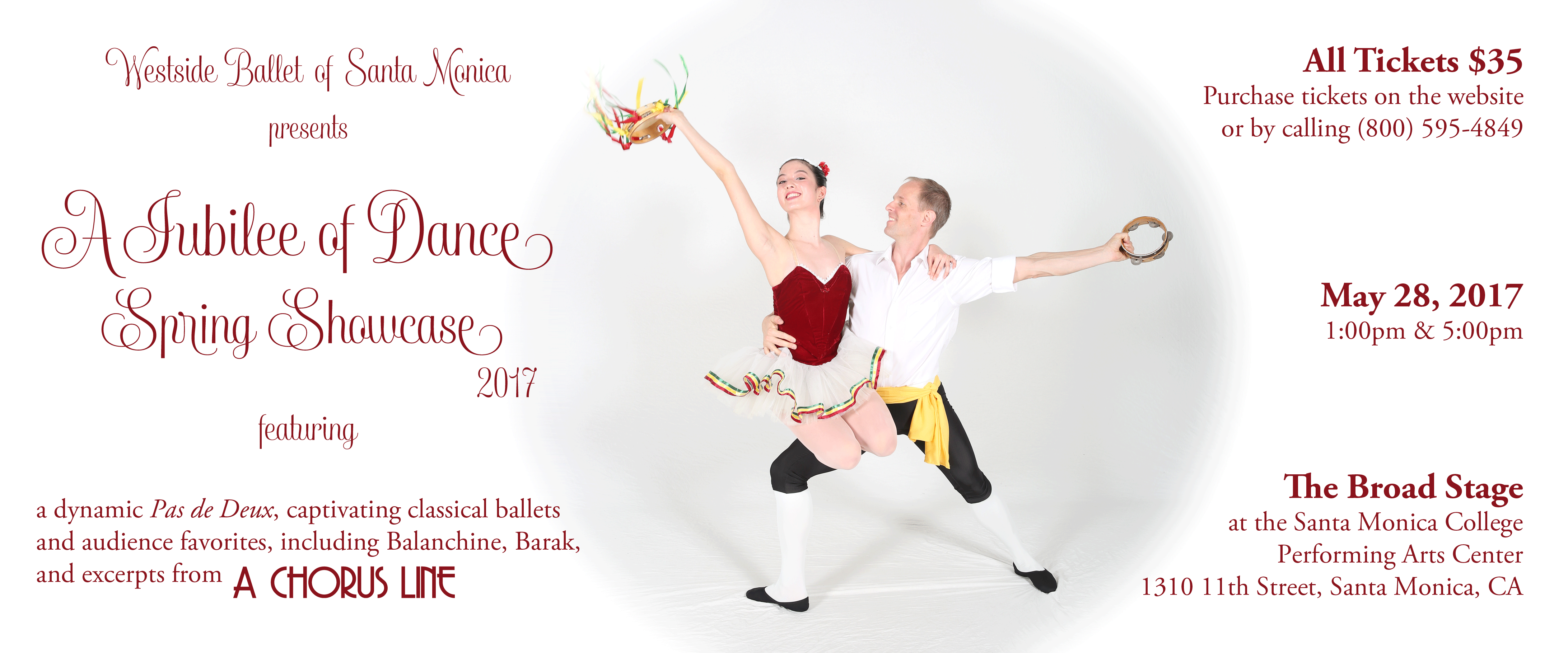 For nearly fifty years, Westside Ballet of Santa Monica's Spring Showcase has delighted Los Angeles audiences and served as a premier performance outlet for young ballerinas launching into professional dance careers with major companies around the world.
This Spring, the legacy of excellence continued as the company presented the next generation of classical dancers, along with guest artists Seth Belliston and Johnny Zhong, live at The Broad Stage at the Santa Monica College Performing Arts Center, on Sunday May 28th, 1 p.m. and 5 p.m. (See Program Notes, below)
---
View Two Previews of the Westside Ballet of Santa Monica 2017 Spring Showcase:
Behind the Scenes: Flash Footage from Drew Roublick on Vimeo.
Program Notes
The program featured George Balanchine's virtuosic Tarantella Pas de Deux which showcased two pyrotechinical dancers in an ever-growing profusion of steps. Opening the program were excerpts from Le Corsaire, one of ballet's most classical works, including Le Jardin Animé and the famous Corsaire Pas de Deux.
Renown choreographer and Westside Ballet alumna Melissa Barak revived her rapturous Concerto Italia to the music of Albinoni, Torelli and Pergolesis. Yvonne Mounsey's blissful ballet Masquerade returned to the stage, as the youngest dancers enchanted the audience with an excerpt from Act III of Coppélia, as well as A Midsummer Night's Dream with the exquisite music of Mendelssohn. Four of our young boys appeared as sailors in Caprice Walker's delightful Sailor's Hornpipe with music by Hershy Kay. The program closed with resident Jazz Director Michele Bachar's audience favorite, A Chorus Line.
Westside Ballet of Santa Monica's non-profit company is comprised of dancers from Westside School of Ballet, Los Angeles' oldest and most successful public ballet school, now celebrating its 50th anniversary. Founded in 1967 by NYCB principal ballerina, Yvonne Mounsey, and co-founder, Royal Ballet's Rosemary Valaire, the school distinguishes itself as a non-audition school where all are welcome to study ballet and trained to the highest and most refined pre-professional level.
Nearly all the artistic staff are products of the school, which brings a consistent approach to classical ballet training. These outstanding performance opportunities have provided real-world preparation to the dancers from the school and launched them into professional careers in ballet companies around the world, most recently Lucia Connolly and Giorgia Martelloni-Zabriskie who joined Joffrey Ballet and Dance Theater of Harlem, respectively, and Molly Novak who will join Boston Ballet as a Trainee for their 2017-2018 season!
It was an unforgettable Dance experience!
Program Notes:
---
Past Spring Performances: