WESTSIDE SCHOOL of BALLET
August 14, 2014
Dear Westside Ballet Families,
We hope you are all enjoying a wonderful summer! Westside School of Ballet wrapped up our remarkable 2013-2014 school year August 1st with an in-studio Summer Workshop Performance that showcased six weeks of intensive dance training.
Once again, our summer students learned a fun and beneficial variety of dance styles in addition to their classical ballet training including modern, flamenco, hip-hop, jazz and musical theater. These classes illustrate how classical ballet training can provide a strong foundation for many dance and theater careers.
While some of our students attended prominent summer intensives including School of American Ballet (SAB), San Francisco Ballet, Alvin Ailey American Dance Theater, Boston Ballet, Central Pennsylvania Youth Ballet, and others, we were privileged to welcome three exceptional guest teachers at Westside this summer. Guest teachers make it possible for students who stay at Westside for the summer to also have new enriching experiences.
Tiler Peck and Robert Fairchild, principal dancers with New YorkCity Ballet, returned to Westside for their third summer in a row. See the article about Tiler on our website www.westsideballet.com. We are grateful for their unending dedication to Westside and the inspiration they instill in our students each time.
Our third guest teacher was Joy Womack, who began her ballet training at Westside Ballet and went on to become the first American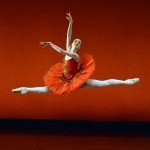 ballerina to dance in the Bolshoi Ballet Company in Russia. Having been a guest Sugar Plum
Fairy in our 2012 Nutcracker, she's now a prima ballerina with the Kremlin Ballet Theater, also a first for an American dancer.
Joy helped us kick off our 2014-2015 fundraising for Westside Ballet of Santa Monica, our non-profit pre-professional ballet training company, and she has pledged to work with us to continue to share her experiences at Westside and return to us during the school year to guest teach. Joy remarked that the students at Westside are like no others. She's taught at many schools across the country and said the teachers and students at Westside are unique in their achievements.
We want to congratulate two of our Level 7 students who have been invited to stay at professional ballet schools for the year: Lucia Connolly is off to SAB in New York and Sarah Drake will be attending San Francisco Ballet School. Though we're sad to lose them, this is what we've prepared them for and we know they will thrive.
We also want to wish our graduating seniors all the best of luck as they spread their wings at Vassar, Bryn Mawr, and Cal State Northridge. Not only, as we always say, is Westside the place for the best training if you want to become a ballet dancer or performer, but Westside promotes discipline and hard work and nurtures students to become strong, focused adults. We are so proud of them and know they will become assets to their new student bodies as they were to us. We continue to admire our many students who have gone on to prestigious universities and varied professions beyond ballet.
As the new school year approaches we hope that all your children will participate in Westside Ballet of Santa Monica's performances. (The Nutcracker auditions are open to levels 3 – 7 and will be held on Saturday, September 6th). In the past year we have accomplished so much with our training company and we want to share these highlights with you as briefly as we can.
We have secured a contract with The Broad Theatre in Santa Monica to perform The Nutcracker for two weekends a year through 2017.
We have partnered with the Santa Monica College Orchestra so that we will have a live orchestra at all our Nutcracker performances.
We performed our Spring Performance at the Broad Theatre in Santa Monica for the first time this year and we will continue to do our Spring Performance at the Broad.
Our new Guild raised $95,000 in the 2013-2014 fiscal year through Project Relevé as well as through grants from both the City of Santa Monica and the Los Angeles County Board of Supervisors. The funds paid off our debts and enabled us to present our 40th Anniversary Nutcracker with a live orchestra as well as offer free Student Matinées to local school children. New funding is now needed to continue these endeavors.
We have made a huge step in growing our community outreach through the City of Santa Monica. At both our Nutcracker and Spring performances, we had over 500 5th grade students attend the performances as part of their arts education.
We partnered with Santa Monica College and offered a college credit class to level 6 and 7 students who were performing in The Nutcracker. Twenty-two students took part in this ballet production class, headed by Caprice Walker, which earned them college credit for performing in the Nutcracker and fulfilling coursework related to their ballet education.
We look forward to another fun, productive and rewarding year at Westside School of Ballet and Westside Ballet Company of Santa Monica.
Please know that our doors are always open, so feel free to contact either of us if you have any questions or concerns.
Sincerely,
Allegra Clegg
Executive Director,
Westside School of Ballet
President of the Board of Directors,
Westside Ballet Company of Santa Monica
Martine Harley
Artistic Director,
Westside School of Ballet &
Westside Ballet Company of Santa Monica