Ballet West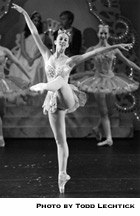 Stephanie Fenz joined Ballet West in Fall 2004.
Westside Ballet audiences will remember Stephanie for her solos as Mirliton and Dew Drop Fairy in the 2000 production of The Nutcracker. In the Spring 2001 performance, she danced solos in The Dream (Don Quixote) and Valse Fantaisie.
In the 1999 production of The Nutcracker, Stephanie danced in Snow, Spanish and Mirliton. In the Spring 2000 performance, she danced the first variation in Paquita Variations and a corps role in Concerto Barocco.
As a high school student, Stephanie was so determined to excel in ballet that she commuted to Westside Ballet from Santa Barbara. Often her mother would drive the 90-mile distance so Stephanie could do her homework in the car.
During summer 2001, Stephanie was accepted to the ballet school of Pacific Northwest Ballet. She spent three years in the professional division there before signing with Ballet West.