Eifman Ballet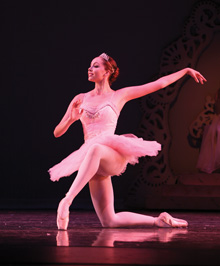 Sarah Poss trained at Westside Ballet and attended summer programs at School of American Ballet, American Ballet Theater, Suzanne Farrell, and The Rock. After finishing high school, she studied with Staatliche Ballettschule in Berlin and the Ellison Ballet in New York.
During her years at Westside, Sarah danced various solos including Doll, Dew Drop Fairy, Snow Queen and Sugarplum Fairy in The Nutcracker (2004-2005). She also danced one of the Paquita variations (2005), a solo in Balanchine's Divertimento No. 15 (2006) and the Pas de Deux from Don Quixote (2006).
Sarah returned to Westside Ballet as a guest artist to dance the role of Aurora in Westside Ballet's 2007 production of Sleeping Beauty. Later that year she danced the Sugarplum Fairy as a guest artist in The Nutcracker.
Sarah joined the Dutch National Ballet for the 2008-2009 season. After the 2009-2010 season, she left to join the Eifman Ballet in Russia.