Sacramento Ballet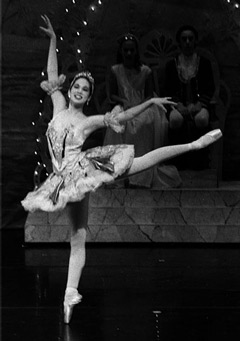 Sarah Hinman began her ballet studies at Westside when she was 9 years old. Her first role in The Nutcracker was as a boy in the party scene.
Besides studying at Westside with Rosemary Valaire and Yvonne Mounsey, Sarah also attended summer programs on scholarship: Pacific Northwest Ballet, School of American Ballet and the Pittsburgh Ballet Theatre.
During her years at Westside Ballet, Sarah danced the role of Princess Aurora in The Sleeping Beauty (1997), as well as Dewdrop Fairy, Arabian, and Sugarplum Fairy in The Nutcracker (1993-96).
Sarah joined the Sacramento Ballet in 1997, where she has performed principal roles including Choleric in The Four Temperaments, Calliope in Apollo, Queen Gertrude in Hamlet, and the Sugarplum Fairy in The Nutcracker. Her photo was featured as part of a Company Profile in the August/September 2004 issue of Pointe magazine.
Sarah returned to dance as a guest artist at Westside Ballet's 2002 Gala, in our 2002 Nutcracker, and in the 2004 Spring Performance.
Performance photo by Todd Lechtick