NYCB/ABT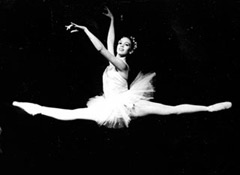 Monique Meunier began her ballet studies at the age of four with Irena Komoskova before joining Westside Ballet to study with Yvonne Mounsey. Her roles in Westside Ballet's Nutcrackerproductions included solo Spanish, Dew Drop Fairy and Sugarplum Fairy (1986-87).
In 1988, she received a scholarship to the School of American Ballet. She joined the New York City Ballet as a member of the corps in 1990 and was promoted to Soloist in 1997 and Principal in 1998.
Monique's work at New York City Ballet included leading roles in George Balanchine's Agon, Apollo, The Four Temperaments, "Rubies" from Jewels, Walpurgisnacht Ballet, Stars and Stripes, Cortège Hongrois, A Midsummer Night's Dream, the Sugar Plum Fairy in The Nutcracker, Swan Lake, Western Symphony and Vienna Waltzes. She created roles in Peter Martins' Jeu de Cartes, David Parsons' Touch and Christopher Wheeldon's Slavonic Dances.
In August 2002 Monique joined American Ballet Theatre as a soloist. Her roles for ABT include Eldest Sister in Anthony Tudor's Pillar of Fire (November 2003) and the pas de deux in Sechs Tanze (May 2004).
Monique left ABT after the 2005 season. She danced in 2006 with Nilas Martins Dance Company; her solo in Puccini Passion was much acclaimed.
Performance photo by Steve Mason