New York City Ballet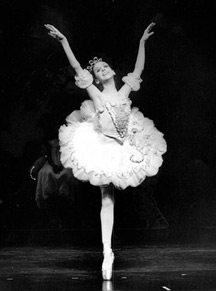 Melissa Barak danced nearly nine years with New York City Ballet.
Westside Ballet aficionados will remember Melissa Barak Mendicelli as a sparkling Sugarplum Fairy in our 1994 and 1995 productions of The Nutcracker. She was then 15 years old, and had trained at Westside School of Ballet since age 8.
Melissa moved to New York in 1996 to attend the School of American Ballet (SAB). In June 1998 she was invited to become an apprentice with New York City Ballet. Less than a month later, she became a member of the corps de ballet.
Melissa has had a number of featured roles with New York City Ballet, including Arabian in The Nutcracker (December 2004) and czardas leader in Cortege Hongrois (January 2005). She traveled to the Kennedy Center to perform in Four Temperaments (March 2005) and danced in the debut performance of Christopher Wheeldon's Klavier (January 2006).
In January 2007, Melissa captured critical attention with her interpretation of Carabosse, the evil fairy in The Sleeping Beauty. New York City Ballet's production of the fairy tale was reviewed in the New York Times and on line. Times critic Gia Kourlas said of Barak that "her imaginative interpretation was full of wicked zest." (Jan. 9) The blog Oberon's Grove put it this way: "Melissa Barak's Carabosse is grandly nasty and she looks fantastic."
Melissa returned to the West Coast to join Los Angeles Ballet in 2007, the inaugural season. She danced featured roles for five seasons, including The Siren in Prodigal Son.
Melissa is also known as a talented choreographer. While an SAB student, she participated in a choreography project. One of her original ballets is Telemann Overture Suite in E Minor. After a successful debut in the 2001 SAB Annual Workshop Performance, Telemann was chosen for the New York City Ballet. It debuted in January 2002. New York Times dance critic Anna Kisselgoff remarked that "Ms. Barak moves dancers around with the precision of a chess master." Other choreographic works in the New York City Ballet repertory include If By Chance (2002 Diamond Project) and A Simple Symphony (2009).
Melissa returned to dance as a guest artist at Westside Ballet's 2002 Gala. Since her return to Los Angeles, she has taught classes at Westside Ballet for the Summer Program and during the regular session.
Performance photo by Steve Mason