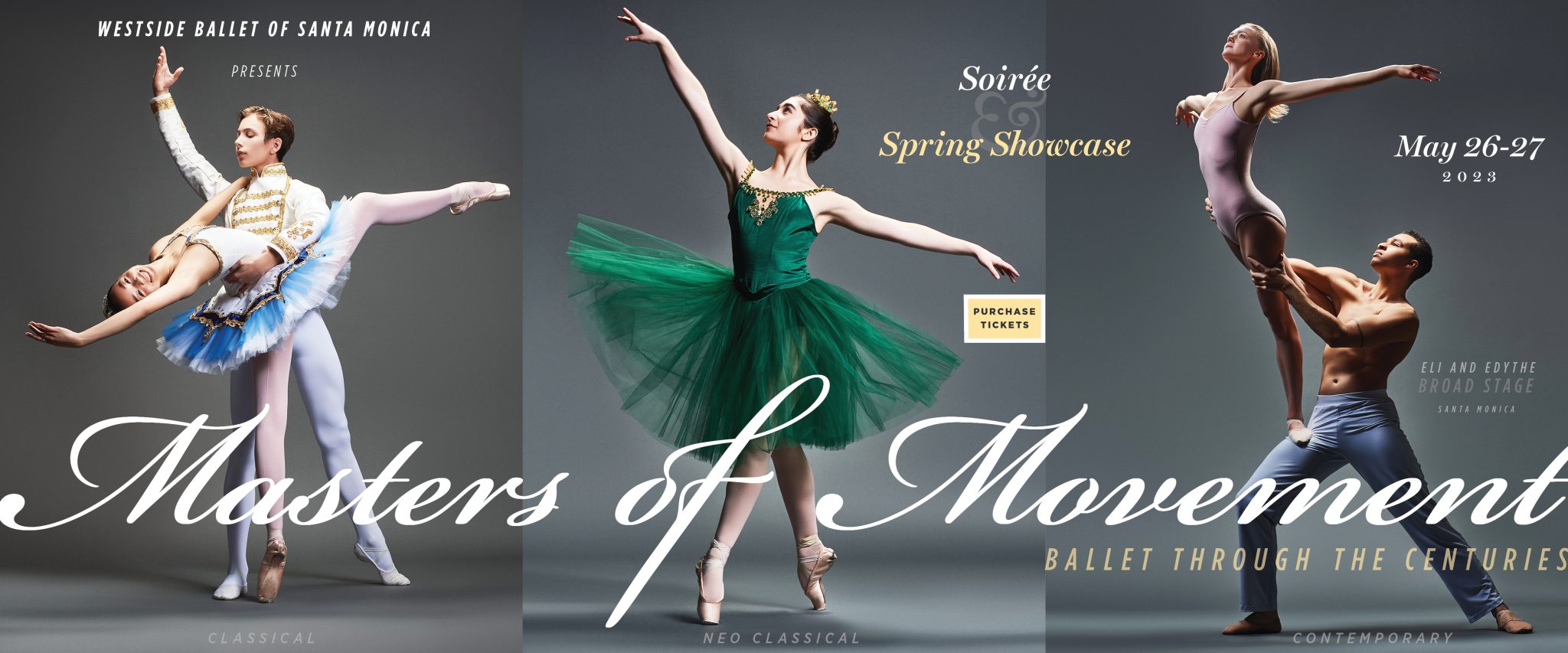 KCRW is supported by Westside Ballet presenting "Masters of Movement" Spring Soirée at The Eli & Edythe Broad Stage in Santa Monica Friday May 26th.
VIP Tickets available NOW for KCRW listeners & members! Please click here and enter code KCRW.
6pm Reception. 8pm Performance. 9pm Dessert & Coffee. $100-300
A richly varied Soirée program of classical and neoclassical selections alongside a newly commissioned work by Vanessa Van Wormer featuring live music.
Repertoire includes the Westside Premiere of After the Rain by acclaimed choreographer Christopher Wheeldon, performed by guest artists Andrea Laššáková and Adrian Blake Mitchell; George Balanchine's Stars & Stripes Pas de Deux, performed by guest artists Maté Szentes and Westside alumna Lyrica Woodruff; a suite from Marius Petipa's Raymonda, and more. The evolution of dance from the classical to the contemporary: Petipa, Balanchine, Wheeldon. Classic. Timeless.
KCRW listeners have access to 40 VIP tickets, which includes backstage access to meet the guest artists before the show — plus an invitation to a studio rehearsal where you can get up close and witness the behind-the-scenes artistic process of Westside's internationally acclaimed guest artists, working alongside the range and talent of our dynamic pre-professional dancers. When you enter code KCRW, any seat you choose will grant VIP access. An email will be sent with details.
For fifty years, Westside Ballet of Santa Monica's Spring Performances and Nutcracker Seasons have delighted Los Angeles audiences and served as a premier pre-professional performance outlet for young aspiring dancers. Westside Ballet's yearly production of The Nutcracker is a local tradition dating all the way back to 1973 — the longest-running Nutcracker production in SoCal.
Many professional dancers have made their stage debuts in Westside's stage performances. A few of them include Monique Meunier (NYCB, ABT), Anna Liceica (ABT), Martine Harley (Houston Ballet), Melissa Barak (NYCB, Los Angeles Ballet, Barak Ballet), Andrew Veyette (NYCB), Stayce Camparo (Kansas City Ballet) and Francis Veyette (Pennsylvania Ballet).
One of the nation's premier pre-professional ballet training companies, the nonprofit organization's mission is to give promising young dancers the performance opportunities crucial to their development and make dance more accessible to local children and families. Westside Ballet of Santa Monica was created by Yvonne Mounsey (New York City Ballet) and Rosemary Valaire (Royal Ballet) in 1973. Westside Alumna Martine Harley (Houston Ballet) took over as Artistic Director in 2013.