Ballet San Jose Silicon Valley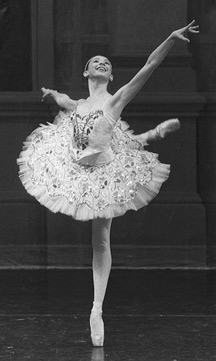 Julia Cherlow trained at Westside Ballet with Yvonne Mounsey and Rosemary Valaire. From 1996 through 1998 she performed leading roles in Paquita, La Vivandiere, Serenade, The Nutcracker, Valse Fantaisie, and Who Cares?
Julia moved from California to New York for the opportunity to dance on scholarship at the School of American Ballet. Her training also includes programs at the Boston Ballet School, The Joffrey Ballet School, San Francisco Ballet School, and scholarships at Pacific Northwest Ballet and the Chautauqua Festival Ballet.
Julia was featured in a two-part article in Pointe Magazine on graduates of SAB. Her repertoire with Ballet San Jose Silicon Valley includes The Red Shoes, Graduation Ball, Blue Suede Shoes, Who Cares?, Carmen, and the role of a nymph in Apollo.
Julia returned to dance at Westside Ballet's Spring 2002 Gala.