Principal Dancer, New York City Ballet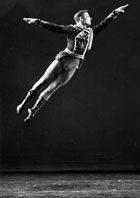 In 1992 Andrew Veyette joined his older brothers Michael and Francis to study at Westside Ballet with Rosemary Valaire and Yvonne Mounsey. He danced in Westside Ballet's production of The Sleeping Beauty as The Bluebird (1997). In The Nutcracker he danced as Toy Soldier (1995 and 1996), solo Russian and Spanish (1996).
In 1996, he earned a scholarship to the School of American Ballet, the official school of New York City Ballet. Andrew joined New York City Ballet as a member of the corps de ballet in spring 2000.
Andrew returned to dance as a guest artist at Westside Ballet's 2002 Gala.
In an October 2005 "Critic's Notebook," Gia Kourlas of the New York Times identified Andrew among a number of "standouts" in the corps of American Ballet Theater and New York City Ballet. Kourlas wrote:
"Andrew Veyette, who has remained a member of City Ballet's corps for a ridiculously long time given his talent (he joined in 2000), is an impressive jumper and turner with ornate hands and a personality that flickers believably between puppy eagerness and sexy insouciance. He is at ease in ballets by both Balanchine and Jerome Robbins."
Evidently Kourlas wasn't the only one who noticed Andrew's talent: in March 2006 he was promoted to soloist. In May 2008 he was promoted to principal dancer.
Andrew's NYCB roles include:
The Sleeping Beauty (January 2007), the Bluebird
Two Birds with the Wings of One (May 2006), pas de deux with Sofiane Sylve
Red Violin (May 2006)
Donizetti Variations (February 2006)
Beast (of "Beauty and the Beast") in Mother Goose (January-February 2006)
Benno, the Prince's friend, in Swan Lake (January 2006)
Cavalier in The Nutcracker (December 2005)
Pas de deux in 'Who Cares?' (April 2005)
The Four Temperaments, Polyphonia (March 2005 at the Kennedy Center)
Gala photo by Todd Lechtick; performance photo by Steve Mason