Celebrating 50 Years of Excellence!
Westside School of Ballet is Los Angeles' oldest and most successful public ballet school, founded in 1967 by New York City Ballet's principal ballerina Yvonne Mounsey, and co-founder Rosemary Valaire from the Royal Ballet.
The school distinguishes itself as a non-audition school where all are welcome to study ballet and are trained to the highest and most refined pre-professional level. While the school's program is designed with the serious ballet student in mind, Westside Ballet attracts students of all ages, with varying degrees of interest and talent, who wish to pursue dance instruction in an inspiring, enriched learning environment.
---
Be sure to read this informative interview about our history, outreach programs, and the delights of ballet with Allegra Clegg, Westside's Executive Director, in VoyageLA.
---
Nearly all the Artistic Staff are products of the school themselves, having served on the faculty for over 10, 20 and 30 years. This ensures a consistent approach to the classical ballet training, with an emphasis on the Balanchine style, that is unmatched elsewhere.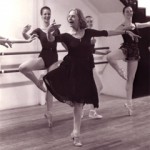 Westside School of Ballet has a non-profit performing division, Westside Ballet of Santa Monica, which produces professional-caliber performances twice a year: a full-length, lavish and traditional production of The Nutcracker – now Los Angeles' longest-running production, having just celebrated its 45th anniversary – and an acclaimed Spring Showcase featuring the works of George Balanchine along with classical and contemporary ballets and original works, all performed at the beautiful Broad Stage at the Santa Monica College Performing Arts Center.
These and other outstanding performance opportunities have provided real-world preparation to the young dancers from the school and launched them into professional careers in ballet companies around the world, as well as providing invaluable life lessons in sportsmanship, teamwork, dedication, respect and commitment that serve them well in any career they choose.
---
Read about the Philosophy and Vision of the School in a Letter From Allegra Clegg.
Westside School of Ballet in Santa Monica is dedicated to excellence in training and the development of the student as an artist. Every year since the school's founding in 1967, its students have been awarded scholarships with major ballet company schools and summer programs, establishing itself as the premier training facility for ballet in Los Angeles.
This achievement is a result of the exceptional training by teachers with broad experience performing with professional companies all over the world. An important part of student training is the study of the classics and the opportunity to perform.

---
Enrolling for Children's Classes?
Registration Quick Links:
Registration Form 2016-2017
Registration and Price List
Schedule of Children's Classes
School Requirements