Houston Ballet | Hubbard Street Dance Company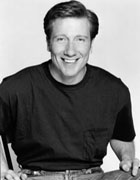 Sven Toorvald is an alumnus of Westside Ballet who danced the role of Sugarplum Cavalier in The Nutcracker. He also trained with Stanley Holden and Margaret Hills.
He went on to dance professionally with Houston Ballet and Hubbard Street Dance Company. He is also an alumnus of the American Film Institute.
Sven returned as a guest artist to dance in the 2002 production of The Nutcracker and has been a resident guest artist ever since. He has been teaching adult classes at Westside Ballet for nearly 20 years and also shares his expertise in the art of partnering teaching the Introductory Pas de Deux class in the Children's Upper Division.
Sven's highly-regarded documentary, The Ballerina Interviews, appeared on PBS (KCET in Los Angeles) in November 2003. Visit Sven's website at http://www.sventoorvald.com/
Performance photo by Steve Mason