Kansas City Ballet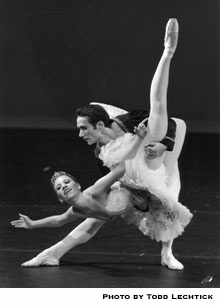 Stayce Camparo received her first training in ballet at Westside. Her pointe roles in The Nutcracker included Doll, Mirliton, Solo Spanish, Solo Peppermint, Dew Drop Fairy and Sugar Plum Fairy (2000).
Stayce attended summer programs at The Rock School of Pennsylvania Ballet, American Ballet Theatre, School of American Ballet and Pacific Northwest Ballet.
After finishing her training at Westside, Stayce spent two years in the professional division of Pacific Northwest Ballet. There she performed in PNB productions including Cinderella, Sleeping Beauty, A Midsummer Night's Dream and Merry Widow.
Stayce joined Kansas City Ballet in August 2003. Her debut piece there was Ballet in the Park. The 2011 season is her ninth with Willilam Whitener's company.