Soloist, Houston Ballet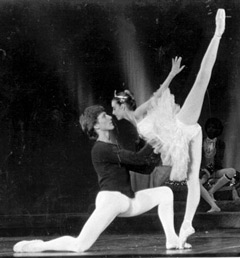 Martine Harley trained at Westside Ballet with Rosemary Valaire and Yvonne Mounsey. Her Westside Ballet roles included Dew Drop Fairy in The Nutcracker (1980). She won scholarships to the summer programs of the American Ballet Theatre and San Francisco Ballet.
In 1983 she joined Houston Ballet and was promoted to soloist in 1988. During her career with Houston Ballet, Martine danced featured roles in all of Ben Stevenson's full length classics, as well as numerous neoclassical works by a variety of choreographers. Martine won critical acclaim for her lyricism in many roles, most notably the third song in Stevenson's Four Last Songs, the Sylph in Graduation Ball, the Lilac Fairy in Sleeping Beauty, and The Dying Swan.
In 1995, she retired from dancing and was asked to join the faculty of Houston Ballet Academy. In 1998, Martine returned to the company as ballet mistress.
In October 2006, Martine retired from Houston Ballet and returned to Southern California. She helped coach Westside Ballet dancers in the 2006 production of The Nutcracker.
Performance photo by Steve Mason (with Sven Toorvald as Cavalier)