Houston Ballet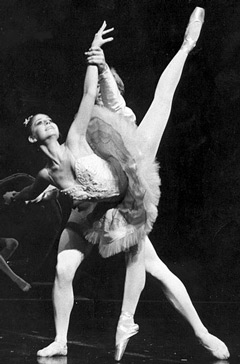 Marcie Ryken-Lewis trained with Yvonne Mounsey and Rosemary Valaire. She was featured as Dew Drop Fairy in Westside Ballet's 1980 Nutcracker. As an alumna guest, she danced Sugarplum Fairy in the 1984 Nutcracker in Royce Hall, UCLA.
Marcie began her professional career with San Francisco Ballet at age 16. She competed and won 4th place in the 1982 International Ballet Competition at Jacksonville, Mississippi. That led her to dance with ABT II. She went on to dance with Houston Ballet for seven years. There she danced lead roles in Sleeping Beauty, Cinderella, Swan Lake, Peer Gynt and Les Patineurs.
Marcie is still active in ballet as co-owner of Los Gatos Ballet and Los Gatos Pilates. In 2003, Marcie was the artistic director for the San Jose Dance Theater's production of The Nutcracker. In the Los Gatos Weekly, Marcie credited Yvonne Mounsey's inspiration.
Performance photo by Steve Mason