Pacific Northwest Ballet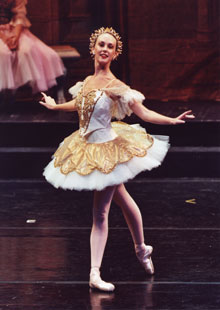 Kylee Kitchens was a radiant Aurora in our full-length production of The Sleeping Beauty (1997). She danced the roles of Dew Drop Fairy, Arabian and Sugarplum Fairy in Westside Ballet's Nutcracker (1996-97).
Kylee began her ballet training at age 10 in San Clemente. She came to Westside in 1995, and danced the roles of Snow Queen, Mirliton, Spanish and Flower in the 1995 production of The Nutcracker. She attended the summer program of Pacific Northwest Ballet in 1995 and 1996.
After completing her training at Westside Ballet, Kylee won a scholarship to the Pacific Northwest Ballet School. She joined the company in 2000 and was promoted to the corps de ballet in 2001.
In 2005, Kylee performed the lead in Petipa's Paquita as a guest artist in Westside Ballet's benefit for Los Angeles Ballet.