Cleveland/San Jose Ballet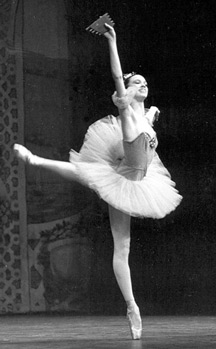 Holly Morrow was featured as the Dew Drop Fairy in Westside Ballet's 1988 and 1989 productions of The Nutcracker. She is pictured here dancing as Mirliton.
After her Westside Ballet training, Holly went on to dance professionally with Cleveland/ San Jose Ballet under the artistic direction of Dennis Nahat. Her repertoire ranged from classics like Swan Lake and Giselle to the thoroughly modern Blue Suede Shoes.
Performance photo by Todd Lechtick