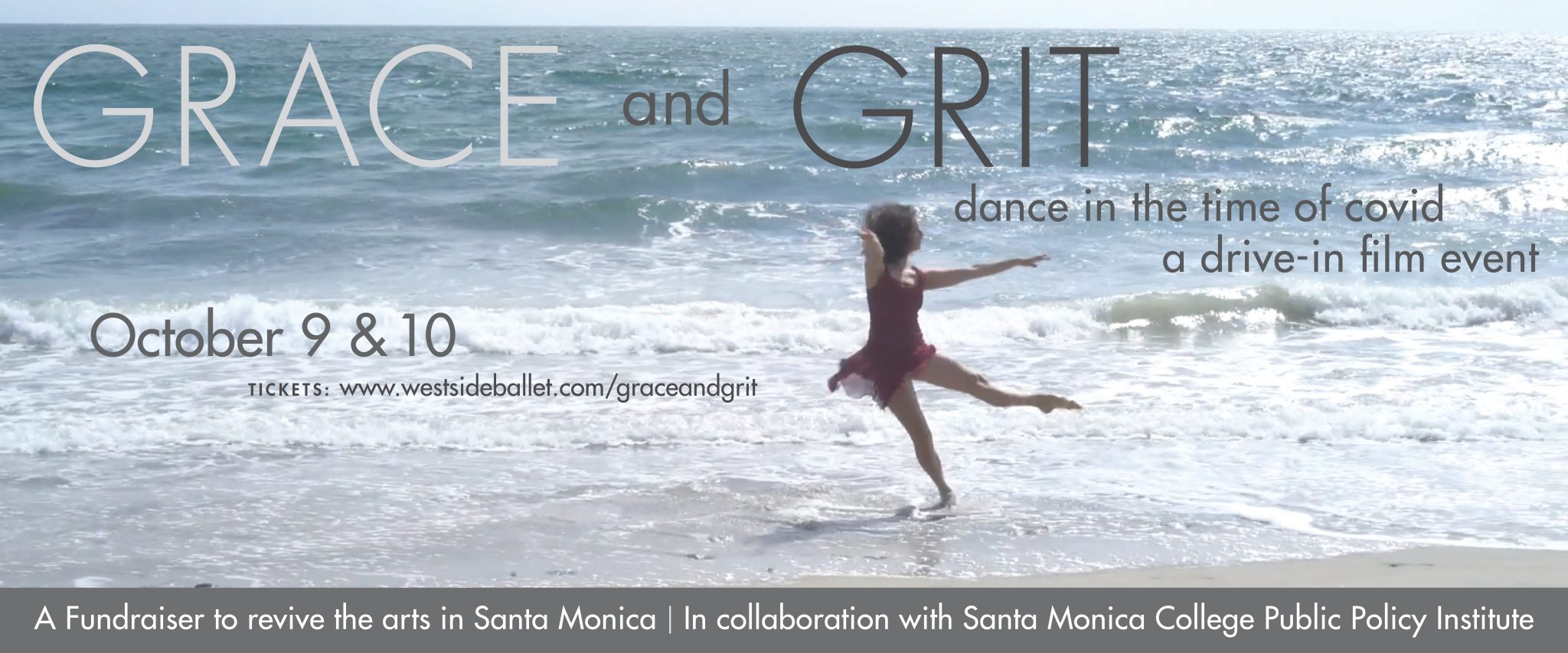 Grace and Grit | Dance in the Time of Covid
This drive-in film event will be presented on Friday & Saturday, October 9th & 10th, @ 7:30 & 10:00 pm at the Santa Monica College Bundy Campus, East Parking Lot, 3171 S. Bundy Drive, in West LA next to the Santa Monica Airport.
The film will feature a compilation of Santa Monica's most celebrated companies, choreographers and dancers including Barak Ballet, a preeminent contemporary dance company founded by Westside Ballet alumna Melissa Barak, Santa Monica College's diverse dance companies Global Motion and Synapse, the exuberant and award-winning Ballet Folklorico Flor de Mayo, and Westside Ballet's own dancers and accomplished alumni.
Segments include pieces by acclaimed choreographers Melissa Barak, Jae Young Lee, Jackie Lopez, Sophie Monat, Raquel Ramirez and Sri Susilowati in emotionally moving works, original solos highlighting Westside's professional alumni Lucia Connolly from Joffrey Ballet and Molly Novak from Boston Ballet, new works by aspiring young dancer/choreographers Samara Koseff, Mac Pampinella and Zane Tahvildaran-Jesswein, an excerpt from Westside Ballet's 2019 Centennial Gala which showcased Balanchine's exquisite ballet Serenade, and international ballet star Joy Womack.
This event's COVID-19 Safety Guidelines are provided at the bottom of this page.
Please click the links below for further information:
COVID-19 Safety Guidelines
Please make note and follow these COVID-19 Safety Guidelines
o Viewing or gathering outside cars is prohibited
o Cloth face coverings are required when visiting the restroom
o Adult oversight of children is required
o Respectful compliance with employees instructions
The number of people permitted per car is based on the number of seats belts in the car.
The film running time is less than one hour; there will be no food concessions; portable restrooms will be available.
The parking lot will open for entry for the 7:30 pm showing each night at 6:15 pm.
Please exit the parking lot immediately after the film ends so that the next showing may enter.
The parking lot will open for entry for the 10 pm showing each night at 9 pm.