Carolina Ballet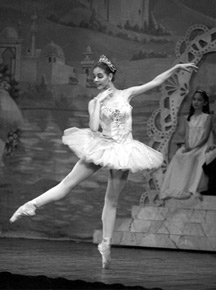 Westside Ballet featured Angela Falivena in The Nutcracker as solo Spanish, Sugarplum Fairy, Arabian and Dew Drop Fairy: she danced lead roles three consecutive years (1992-94).
Angela trained at Westside Ballet from age seven to 16, when she was accepted to the Pacific Northwest Ballet School on scholarship. She apprenticed with Pacific Northwest Ballet, then moved to Raleigh to dance professionally for Carolina Ballet.
Angela now dances in Seattle with Sonya Dawkins' Dance Theatre, and teaches on the faculty of Olympic Ballet. She performed with Village Theatre in Brigadoon and hopes to continue with a career in musical theater.
Angela returned to dance as a guest artist at Westside Ballet's 2002 Gala.
Performance photo by Todd Lechtick.