Sacramento Ballet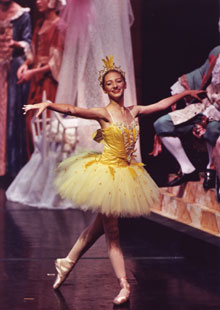 Ilona Marie Pociunas, a native of Santa Monica, began her ballet training at age five with her mother, Liz Wasynczuk.  From age 10 to 17 she studied with Yvonne Mounsey, Rosemary Valaire and Caprice Walker at Westside School of Ballet.  She also attended summer programs at the School of American Ballet, The Rock School of Pennsylvania Ballet, and American Ballet Theatre.
During her years at Westside, Ilona danced various solos including Sugarplum, Arabian and Chinese in The Nutcracker (1999-2000), and Fairy of the Songbirds (pictured, photo by Todd Lechtick) in The Sleeping Beauty (1997).  She has also performed as first ballerina in Concerto Barocco, soloist in Valse Fantaisie, and lead roles in Classical Symphony.
Ilona returned to dance as a guest artist at Westside Ballet's 2002 Gala, as Arabian in the 2002 production of The Nutcracker, and as The Queen in the 2007 production of The Sleeping Beauty.
Ilona joined Sacramento Ballet as an apprentice, becoming a member of the company in 2003.
She holds a Bachelor of Arts degree in Performing Arts – LEAP (Liberal Education for Arts Professionals from Saint Mary's College of California and a massage technician certification from (IPSB) Institute of Psycho – Structural Balancing massage school of Culver City, California. Currently Ilona teaches children and adult classes at Westside School of Ballet.