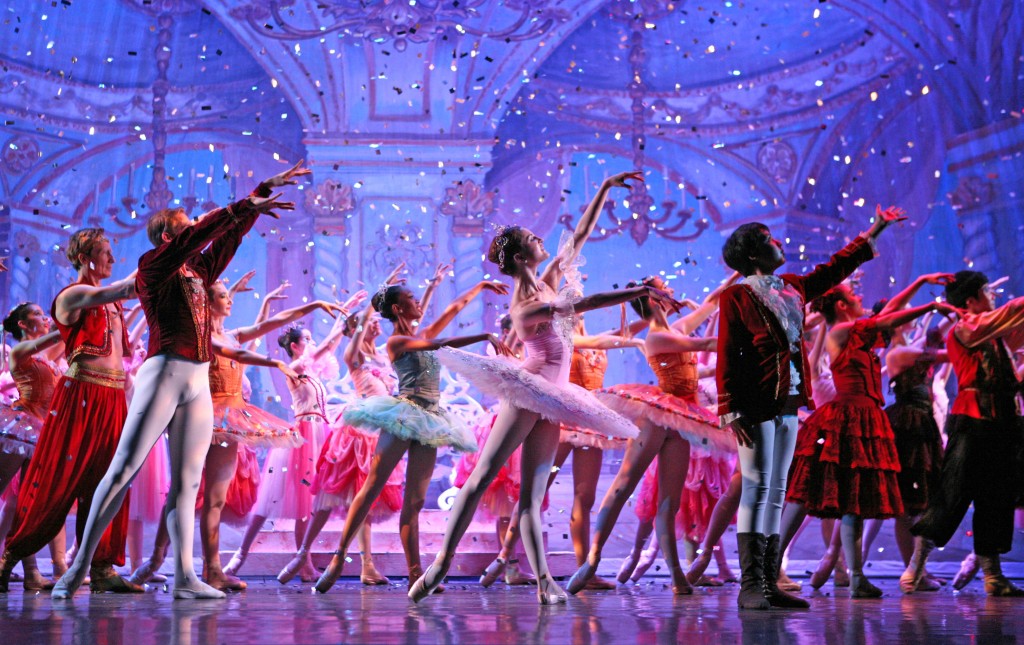 See more spectacular photos of the 2012 production of The Nutcracker in our Gallery.
As featured in the 2011 Los Angeles Times, the artistic direction closely follows that of Balanchine's original version, passed on by the late and legendary Yvonne Mounsey, who created the Nutcracker role of Center Spanish during the peak of her career as principal dancer with New York City Ballet.
"Ours is very true to the story as is reflected in the music and the spirit," says Caprice Walker, Associate Artistic Director of Westside's Nutcracker. "We have all of the elements that audiences look for – the falling snow, a Christmas tree that grows, and that magical moment when the Polichinelles pop out from under Mother Ginger's skirt."
Read more about this year's production in the Los Angeles Times Calendar; in the Santa Monica Daily Press; the Santa Monica Mirror; the Palisadian Post; and the Topanga Messenger. Watch Joy Womack prepare for her Sugar Plum role in this video clip from CBS Los Angeles. Listen to WSB faculty member Francine Kessler Lavac in her KUSC interview about The Nutcracker with Gail Eichenthal. Additional press on Joy Womack here and here.
Sugar Plum Fairies Dazzled!
We were excited to host two guest Sugar Plum Fairies this year who are both native Southern Californians, Erin Rivera-Brennand and Joy Womack.
Joy Womack began her ballet training with Westside School of Ballet before continuing on with the Bolshoi Academy in Moscow, Russia. Miss Womack is now the first American female dancer to ever be accepted into the prestigious Bolshoi Ballet. We were thrilled that she returned to us this holiday season to perform.
Erin Rivera-Brennand, who has been a professional ballerina with Texas Ballet Theater and Los Angeles Ballet, graced our stage in 2007 when she performed the role of Princess Aurora in our full-length production of Sleeping Beauty to sold-out audiences. Miss Rivera-Brennand has been part of the Westside Ballet family for many years and we were honored to have her performing with us again this year.
Nutcracker's Two Charming Claras Are Westside Ballet Students
The role of Clara, the daughter in the Silberhaus family who guides us through her adventures with The Nutcracker, was proudly filled this year by two Westside Ballet students. Anna Davtyan is 12 years old, and has been dancing at Westside ballet since she was 5 She participated in the School of American Ballet summer program in 2011 and 2012. Anna has a special interest in music and plays both piano and viola. She is in seventh grade at Paul Revere Middle School SAS (School for Advanced Studies) program, and lives in Pacific Palisades. Emilia "Milly" Davies began taking ballet classes at age 3 in Sydney, Australia. She moved to Los Angeles the week she turned 5, and joined classes at Westside Ballet even before her family had found a place to live or enrolled her in elementary school! Milly is in 7th Grade at Corpus Christi School, Pacific Palisades. She loves art, reading (and shopping!) and especially to dance with her older sister, Bella.
A Los Angeles Tradition
The Magical Tree Appears!
Westside Ballet's production of The Nutcracker is a Los Angeles tradition dating all the way back to 1973. The Wadsworth Theater in Brentwood has been the production's home since 1999.Showcasing the most promising young dancers in Los Angeles, Westside Ballet's The Nutcracker is the traditional, full-length ballet in two acts, with lavish costumes and exuberant choreography.Brought to life by falling snow and a Christmas tree that grows, Westside Ballet's The Nutcracker is not only the longest running Nutcracker production in Los Angeles history — it's based on George Balanchine's original version and the traditional Petipa classic in quality, integrity and musicality.
The Arabian Coffee Dance
About Past Productions
Many promising dancers make their stage debuts in the Westside Ballet The Nutcracker. Our Past Productions  section highlights some of the many dancers who went on to professional careers, including Monique Meunier (NYCB, ABT), Anna Liceica (ABT), Martine Harley (Houston Ballet), Melissa Barak (NYCB, Los Angeles Ballet), Andrew Veyette (NYCB), Stayce Camparo (Kansas City Ballet) and Francis Veyette (Pennsylvania Ballet).
A Los Angeles Tradition:
---
We are pleased to announce that this year's guest performers and the involvement of the Santa Monica Community Orchestra have been made possible by a generous gift from Kate Bransfield of Santa Monica Listings.