Hong Kong Ballet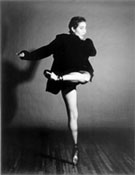 Veronica Apodaca-Mendonca's roles with Westside Ballet included Arabian (1984, 1986-87, 1989) and Sugarplum Fairy (1986-87, 1989) in The Nutcracker. She later danced professionally for Hong Kong Ballet and Southwest Ballet. Her talent has earned her roles in televison, commercials and music videos.
Veronica is the creator and director of the Los Angeles based dance company Dance Electric, through which she brings to the world her unique and edgy choreographic visions. Her choreography has also been commissioned by Westside Ballet, Los Angeles High School for the Performing Arts, Orange County High School for the Arts, and Oakley Ballet School.
In 1997, Veronica appeared as an alumna guest dancer in the role of Carabosse, the evil fairy, in Westside Ballet's production of The Sleeping Beauty. Veronica also danced in Westside Ballet's 2002 Gala.
Veronica taught as a member of the Westside School of Ballet faculty for more than 10 years.