Guest Teachers Offer Superb Learning Opportunities!
Tiler Peck and Robert Fairchild
Two principal dancers from the New York City Ballet, Tyler Peck and Robbie Fairchild, have confirmed they will again teach in our Summer Program. Dates to be announced.
We are excited to have them back with us!
See a recent piece on the duo in Vanity Fair, with short video.
Joy Womack
We're pleased to announce that Joy Womack, Principal Ballerina with the Kremlin Ballet Theatre, will be teaching Level 6/7 Students during our Summer Program. Dates to be announced.   Joy began her dance study with Yvonne Mounsey at WSB, and was the first American woman invited to dance with the Bolshoi Ballet. She recently signed a Principal contract with the Kremlin Theater, where she has drawn sellout crowds to their 6500-seat theater for the first time for Ballet.
Westside Ballet's Summer Programs offers diversity and flexibility,
with a range of options:
Open to beginners, elementary, intermediate & advanced students.
Students participating for 5 weeks will have the opportunity to perform for friends and family in a studio showcase at the end of the session.
Participation opportunity: Full-time, weekly, daily, or by the class.
Uniform required; please evaluate for correct level before buying uniform!
Two Programs Offer a Well-Rounded Dance Curriculum:
Lower Division (ages 8 to 11):  For children who have completed Ballet 1 or equivalent
Hours between 9am and 3pm; supervised care available until 5pm
Levels 2 & 3 include Ballet, Jazz, Mime, Choreography, Musical Theater, Ballet History, Folk & Crafts
Level 4 includes Ballet, Pre-Pointe & Pointe, Repertoire, Jazz, Flamenco, Musical Theatre and Modern
Upper Division (ages 12 to 19):
Intensive training for the dedicated ballet dance student.
Emphasis on Classical Ballet, including Pointe, Pas de Deux and Variations (at appropriate grade levels).
Character, Mime, Flamenco, Modern, and Jazz classes for a broader experience. Open to beginners, elementary, intermediate and advanced students. Studio performance on the last day of the program.
Registration
Registration Fees are structured to offer students the greatest possible scheduling flexibility:
$2500 for 8 weeks
$1400 for 4 weeks
$425 per single week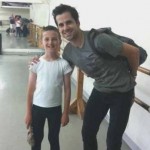 Early registration is recommended. A non-refundable tuition deposit of $600 is due at time of registration, and must accompany the registration form. (Download Summer Program registration form in pdf.) The tuition balance is due June 1, 2015.
You may scan the completed form and email it to mail@westsideballet.com, and call Westside School of Ballet with your payment information at 310-828-2018. Or you may choose to mail or deliver the form to the school with your check. Please make checks payable to "Westside Academy of Dance".
Housing
Limited housing is available in private homes for out-of-town students age 13 to 20.
2 Four-Week Summer Programs
June 15 through July 10, 2015 July 12 through august 7, 2015 Download 
Summer Program registration form
Faculty
Deborah Collodel
Wendy Donnelly

Assieh La Mora

Elizabeth Martinez