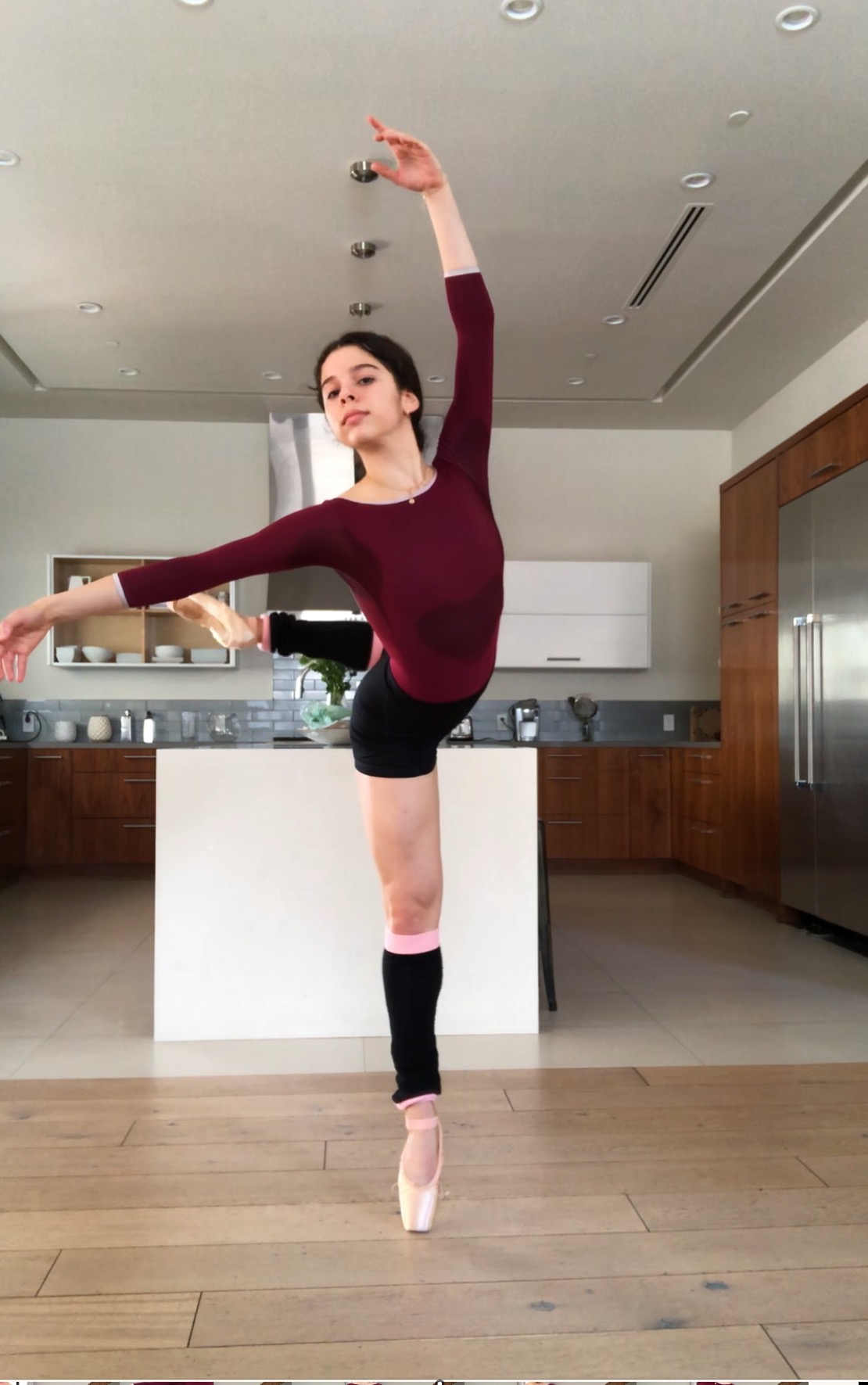 For local dancers who have been enjoying the Online Classes during the "Safer At Home" period and and wish to continue — or for anyone not presently in the Santa Monica area — there are still many online classes held every week via Zoom.
Please see our current online class schedule below, which is updated every Sunday evening for the following week.
ZOOM Classes are available for $10 each via MindBody.
Please click the Sign Up link beneath your desired class on the schedule below to be taken to MindBody.
If you have not used MindBody before, or for further information regarding how to sign up and pay for online classes, please click here.
Westside School of Ballet was permitted to reopen for in-studio classes on June 15. Please click here for our in-studio schedule.
In these times of need, we are grateful for your generosity. If you would like to consider a contribution to Westside School of Ballet, please visit 1500 Angels Save Our Studio!
We hope Westside has brought you some joy in this difficult time, and we wish all of you and yours the best of health.
THIS WEEK'S ONLINE ADULT ZOOM CLASSES
MONDAY MAY 17

 
 
Beginning/Intermediate
8-9:30am
Instructor: Mark Lopez
ZOOM/IN-STUDIO
Sign Up
Intro
9:15-10:45am
Instructor: Rebecca Witjas
ZOOM/IN-STUDIO
Sign Up
Intermediate/Advanced
9:45-11am
Instructor: Sven Toorvald
ZOOM/IN-STUDIO
Sign Up
Basics
11-12:30pm
Instructor: Rebecca Witjas
ZOOM/IN-STUDIO
Sign Up
Advanced
11:30-1pm
Instructor: Nader Hamed
ZOOM/IN-STUDIO
Sign Up
Intermediate
1:30-3pm
Instructor: Chasen Greenwood
ZOOM/IN-STUDIO
Sign Up
Beginning
7-8pm
Instructor: Aimée Gaudio 
ZOOM/IN-STUDIO
Sign Up
 
 

 

 
 

TUESDAY MAY 18

 
 
Intermediate
7:45-9am
Instructor: Charlie Hodges
ZOOM/IN-STUDIO 
Sign Up
Intermediate/Advanced
9:30-11am
Instructor: Sven Toorvald
ZOOM/IN-STUDIO 
Sign Up
Beginning
10-11am
Instructor: Aimée Gaudio
ZOOM/IN-STUDIO
Sign Up
Advanced
11:30-1pm
Instructor: Nader Hamed
ZOOM/IN-STUDIO
Sign Up
Intermediate
6-7pm
Instructor: Celeste Amos
ZOOM ONLY
Cancelled until further notice
Intermediate
1:30-3pm
Instructor: Chasen Greenwood
ZOOM/IN-STUDIO
Sign Up
Beginning
7-8pm
Instructor: Aimée Gaudio
ZOOM/IN-STUDIO
Sign Up
Intermediate/Advanced
7-8:30pm
Instructor: Mark Lopez
ZOOM/IN-STUDIO
Sign Up
 
 
 
 

WEDNESDAY MAY 19

 
 
Beginning/Intermediate
8-9:30am
Instructor: Mark Lopez
ZOOM/IN-STUDIO
Sign Up
Intro
9:15-10:45am
Instructor: Rebecca Witjas
ZOOM/IN-STUDIO
Sign Up
Intermediate/Advanced
9:30-11am
Instructor: Sven Toorvald
ZOOM/IN-STUDIO
Sign Up
Intermediate
9:45-11:15am
Instructor: Johnny Zhong
ZOOM/IN-STUDIO
Sign Up
Basics
11-12:30pm
Instructor: Rebecca Witjas
ZOOM/IN-STUDIO
Sign Up
Advanced
11:30-1pm
Instructor: Nader Hamed
ZOOM/IN-STUDIO
Sign Up
Beginning/Intermediate
5:15-6:45pm
Instructor: Chasen Greenwood
ZOOM/IN-STUDIO
Sign Up
 
 
 
 
 

THURSDAY MAY 20

 
 
Beginning/Intermediate
7:45-9:15am
Instructor: Charlie Hodges 
ZOOM/IN-STUDIO 
Sign Up
Intermediate/Advanced
9:30-11am
Instructor: Sven Toorvald
ZOOM/IN-STUDIO 
Sign Up
Beginning
10-11am
Instructor: Aimée Gaudio
ZOOM/IN-STUDIO
Sign Up
Advanced
11:30-1pm
Instructor: Nader Hamed
ZOOM/IN-STUDIO
Sign Up
Intermediate
1:30-3pm
Instructor: Chasen Greenwood
ZOOM/IN-STUDIO
Sign Up
Intermediate/Advanced
7-8:30pm
Instructor: Mark Lopez
ZOOM/IN-STUDIO
Sign Up
 
 
 

FRIDAY MAY 21

 
 
Beginning/Intermediate
8-9:30am
Instructor: Mark Lopez
ZOOM/IN-STUDIO
Sign Up
Intermediate/Advanced
9:30-11am
Instructor: Sven Toorvald
ZOOM ONLY
Sign Up
Intermediate
9:45-11:15am
Instructor: Johnny Zhong
ZOOM/IN-STUDIO
Sign Up
Advanced
11:30-1pm
Instructor: Nader Hamed
ZOOM/IN-STUDIO
Sign Up
Intermediate
1:30-3pm
Instructor: Chasen Greenwood
ZOOM/IN-STUDIO
Sign Up
Intermediate
6:30-7:30pm
Instructor: Celeste Amos 
ZOOM ONLY
Suspended until further notice
Intermediate/Advanced
7-8:30pm
Instructor: Mark Lopez
ZOOM/IN-STUDIO 
Sign Up
 
 
 

 

 

SATURDAY MAY 22

 
 
Intermediate
7:45-9am
Instructor: Charlie Hodges
ZOOM/IN-STUDIO
Sign Up
Basics/Intro
9:15-10:45am
Instructor: Chasen Greenwood
ZOOM/IN-STUDIO
Sign Up

Intermediate
11:30-1pm
Instructor: Chasen Greenwood
ZOOM/IN-STUDIO
Sign Up
Advanced
1:45-3:15pm
Instructor: Nader Hamed
ZOOM/IN-STUDIO
Sign Up

 

 
 

 

 

SUNDAY MAY 23

 

 
Intro
9-10:30am
Instructor: James Ady
ZOOM/IN-STUDIO 
Sign Up
Beginning/Intermediate
10:45-11:45am
Instructor: James Ady
ZOOM/IN-STUDIO 
Sign Up
Intermediate/Advanced
11-12:30pm
Instructor: Mark Lopez
ZOOM/IN-STUDIO
Sign Up
Advanced
1-2:30pm
Instructor: Nader Hamed
ZOOM/IN-STUDIO
Sign Up