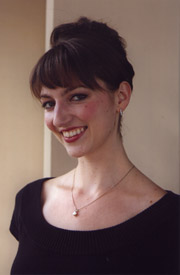 Ilona Pociunas had her first ballet and tap classes at age 5 with her mother Elizabeth Wasynczuk and Vilma Ebsen at The Ebsen School of Ballet in Pacific Palisades. At age 10 – 17 years old Ilona trained under Yvonne Mounsey, Rosemary Valaire, and Caprice Walker at Westside School of Ballet. During this time she trained at prestigious summer intensive programs such as The School of American Ballet, The Rock School of Pennsylvania Ballet, and American Ballet Theatre in New York. Her most memorable roles were first ballerina in Concerto Barocco, Arabian, Dew Drop Fairy, and Sugarplum Fairy in The Nutcracker.
Ilona graduated from Marymount High School in '01 and accepted an apprenticeship at The Sacramento Ballet under the direction of Ron Cunningham and Carinne Binda. Ilona chose to defer her acceptance to Pace University to pursue her apprenticeship opportunity. After two years of apprenticeship she was promoted to a company member and continued to dance three more years with The Sacramento Ballet.
Some of her most memorable roles included Aladdin's Mother in Scheherazade and a Vampire in Ron Cunningham's Dracula. She performed many roles in The Nutcracker, but some of her highlights included soloist roles such as The Arabian Princess and The Rose from Waltz of the Flowers. Some of her favorite classical ballets she performed in were Giselle and Romeo and Juliet. Favorites of those choreographed by George Balanchine include Agon, Allegro Brilliante, Who Cares, and Western Symphony.
After leaving The Sacramento Ballet Ilona continued to dance a few more years in Los Angeles as a freelance dance artist, work as a part-time ballet teacher, and pursue a bachelor's degree. She holds a B.A. in Performing Arts from Saint Mary's College of California through the LEAP (Liberal Education for Arts Professionals) Program. She briefly returned to The Sacramento Ballet in 2009-2010 as a guest artist to perform in The Nutcracker, Theme and Variations, and Carmina Burana.
Currently, Ilona continues to teach ballet in Los Angeles while studying to get her Master's Degree in Communication Disorders and Sciences at CSUN. She is looking forward to becoming a speech and language pathologist.
She loves teaching both adults and children at Westside School of Ballet and enjoys choreographing for the children during summer workshops.