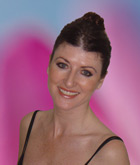 Training:
Irish native, Brigid Boden, was trained in RAD at the Royal Leinster School of Ballet, Dublin and at the Hammond School in Chester, England and is a member of The Royal Academy of Dance.
Brigid was the only ballet dancer in Ireland to be awarded a full scholarship by The Dance Theatre of Harlem in New York where she was trained in Balanchine technique under the guidance of founders Arthur Mitchell, Karl Shook and New York City Ballet's legendary Tanaquil Le Clercq.
Professional career:
Brigid began her professional career with The Dublin City Ballet. She has choreographed and performed in several original pieces for stage and screen, and has written, appeared in, and directed the successful educational ballet video for children 'Ballet At Home.'
Brigid travels to ballet schools around the world teaching master classes, and sharing her knowledge of both RAD, and Balanchine technique. She
has been teaching ballet at Westside School of Ballet since 2007.