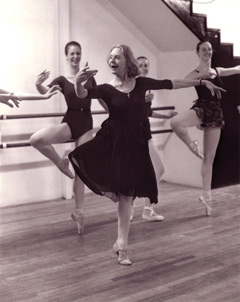 It is with great sadness that Westside Ballet announces the death of Yvonne Mounsey, founder of Westside Ballet.
With a ballet career encompassing more than eight decades, she touched the lives of thousands through her dancing, her choreography, her teaching, and the example she set of a life well-lived. We will miss her very much.
Read more about Yvonne Mounsey.
Memorial
A memorial was held at 3 p.m., Sunday, Oct. 14 at the Wadsworth Theatre.
In lieu of flowers, the family requests donations to our dance company, Westside Ballet of Santa Monica. You may use the button below to make a donation using PayPal or a credit card. (The form will be labeled "YLC Ballet," Yvonne's initials.) Our dance company is a 501(c)3 charitable organization, and donations are tax deductible.
See the stories about Yvonne's life and contribution to ballet in the Los Angeles Times and the New York Times.
(Above right, Yvonne teaching – photo by Todd Lechtick)